The Yiddish Silver Screen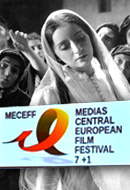 Nobody is sure exactly how many movies were ever made in Yiddish. James Hoberman's exhaustive study Bridge of Light (2010) lists some hundred such films, made in the 20th century primarily in America, Germany, Austria, Romania, Poland, and Russia, including features, shorts, and documentaries, both talking and silent.  Some of these are lost; copies or pieces of others surfaced with the coming of glasnost in the then-Soviet Union. Sharon Rivo, executive director of the National Center for Jewish Film, the world's largest preserver and repository, still hopes that more lost prints will turn up some day in attics and bottom drawers.
Ten of the Yiddish films known to us were screened this year from September 5 to 11 in the medieval Transylvanian town of Medias—in today's Romania—as part of the first Medias Central European Film Festival (MECEFF).  The festival drew hundreds of viewers, and the audiences grew in numbers and enthusiasm as the week progressed.  Most of the films—from the modern states of Poland, Hungary, the Czech Republic, Slovakia, Austria, Romania, and Slovenia—had nothing to do with Jews.  I was one of fewer than ten Jews who attended, most of us presenters rather than viewers.  But on and off the screen, the event offered telling images of Jewish life in Central Europe.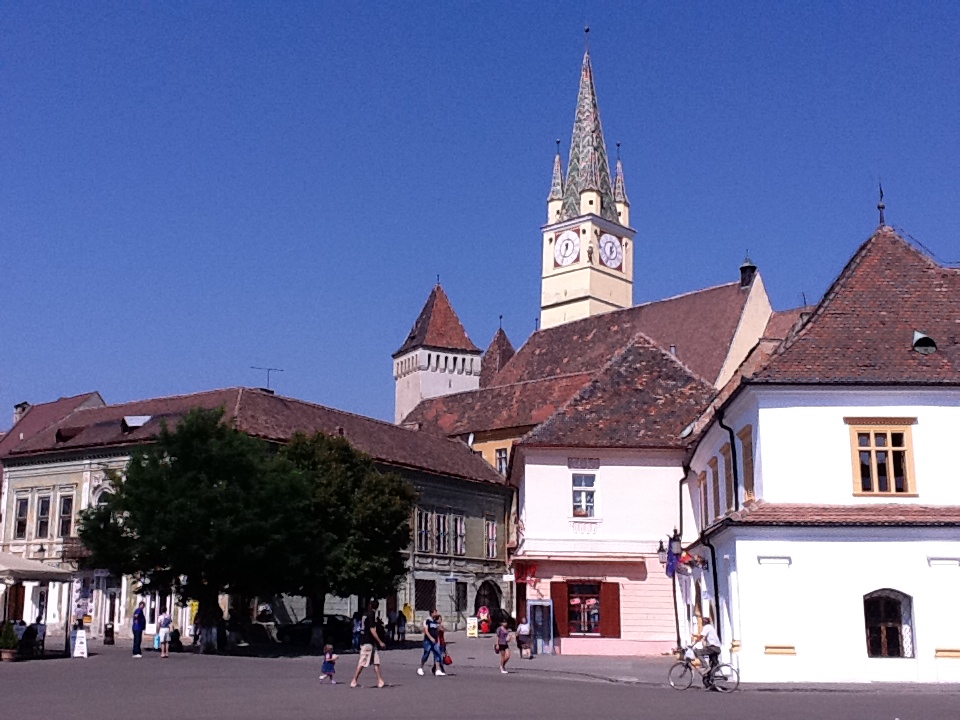 Town square, Medias.  Photograph courtesy of William Meyers.  
It was the inspiration of the festival's organizer, Romanian film director Radu Gabrea, to superimpose "Yiddishland," metaphorically, on the map of Central Europe—which was, after all, a heartland of Yiddish language and culture. Professional secular Yiddish theater was born in a wine garden café in Romania.  Many of the best Yiddish films were made in Poland and in Russia, both before and after the Revolution. The pervasively unsettled atmosphere of 20th-century life in this region, the violently shifting borders and political systems, the mix of ethnicities, the uneasy search for identity—all these elements find parallels in the history of Yiddish films, which were made by a mixture of Jewish and Gentile, American and European filmmakers who moved constantly and were harried by censorship.  Some of the questions raised by the films—if a silent film's characters appear to be speaking Yiddish but the intertitles are in English, Polish, or Russian, can it be considered a Yiddish film at all?—form part of the larger difficulty of defining a Jewish artistic sensibility.
Potential audiences were turned away for lack of room to open one more folding chair, as the vigor and variety of the festival's Yiddish films astonished people who had not even known such work existed.  Among the silent films were Benya Krik (1926), based on Isaac Babel's sly drama of the downfall of a swashbuckling Odessa gangster; the wistful fantasy Jewish Luck (1925), starring the great Russian Yiddish actor Shlomo Mikhoels, who was murdered by Stalin, and based on Sholem Aleichem stories of a sad sack who dreams of making a fortune as a matchmaker; and the comedy East and West (1923), produced in Poland by Americans and starring frisky Molly Picon as an all-American girl who visits her father's shtetl and gets married by mistake.  Among the talkies were the dark expressionist classic The Dybbuk (1937), a mystical and erotic tale of lovers parted in life but united when his soul possesses hers after his death, and Yidl with his Fiddle (1936), a musical frolic about romance among a wandering klezmer band.
MECEFF even included documentaries about Yiddish film and theater—such as Goldfaden's Legacy (2004), Gabrea's own homage to the father of Yiddish theater, and the Israeli The Komediant (1999), an affectionate portrait of the song-and-dance man Pesach Burstein—and films about Jews, some modern and many set during World War II.  These included Forgotten Transports, a harrowing Czech quartet of documentaries; Manasse, a 1925 Romanian silent film based on a play by a non-Jew about intermarriage; and recent fictional dramas such as Fear Not, Jacob!, made in 1981. 
We ate breakfast in a hotel dining room under a painting of a leering old Jew bent over a palmful of coins, so familiar a feature of local folkloric décor that almost nobody seemed to notice.  In striking contrast, one was struck by how often and how warmly MECEFF's conference sessions focused on Jews—and not only Jews but Israel.  In addition to its seven core nations, the festival plans to feature one guest nation each year.  In this first year, the guest was Israel; and the festival showed a number of Israeli films.  At the screening of Valley of Strength, an Israeli drama about love among early settlers, not only the star and director but the Israeli ambassador appeared.    
The films were shown in venues including the town square, an open field under a ruined citadel, and an old-fashioned theater inside the town's main hotel.  All the Yiddish films, however, were shown in a bare anteroom that looks directly into the sanctuary of the town's sinagoga.  The sanctuary itself is roped off because it is dangerously broken and dilapidated, but it is beautiful: dark blue walls painted with animals, candelabra, laurel wreaths and verses.  Once the synagogue took up a substantial corner of an entire city block and included a courtyard, ritual bath, school, and home for the rabbi.  Most of those buildings now fill other functions, except for a few rooms storing a random collection of prayer books that were abandoned when the last Jews left Medias in the 1990's.  There is a plan is to repair the synagogue building and preserve it as a venue for small concerts. The Jewish life and the Jews that once existed there are beyond preservation.

                       Synagogue, Medias.  Photograph courtesy of William Meyers.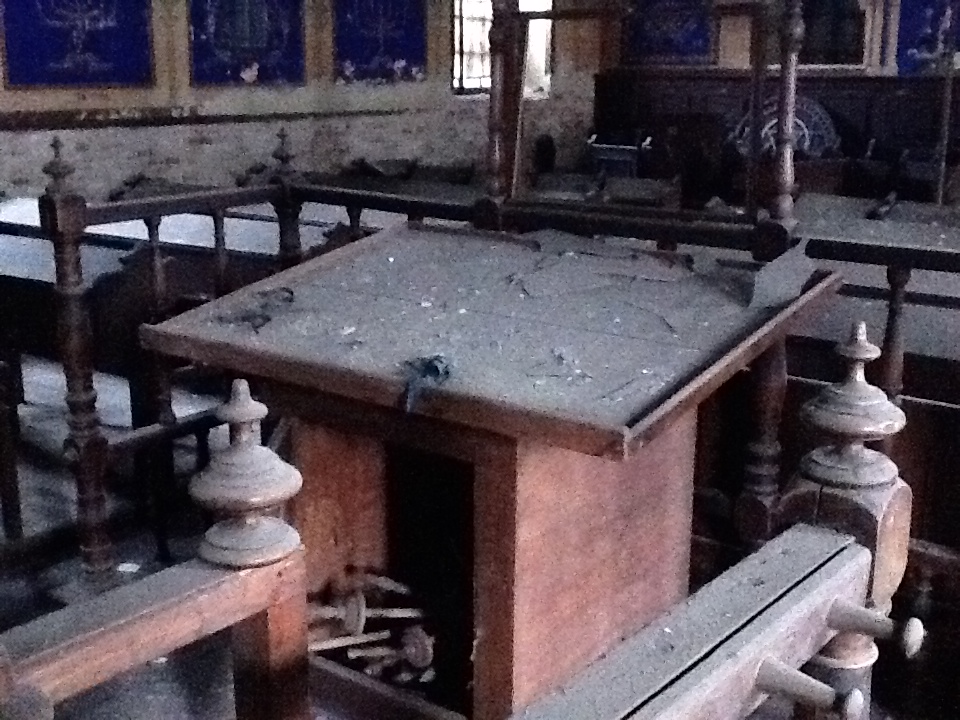 Synagogue interior, Medias.  Photograph courtesy of William Meyers.
On the Sabbath, my husband and I borrowed some of the prayer books from the Medias synagogue—the Gentile caretaker made us solemnly promise to return them—and took them to the neighboring town of Sigisoara, popular with tourists because Vlad the Impaler, a/k/a Dracula, lived there.  The town's small synagogue has been restored, mainly by an American Jew who has a home there and a local doctor acting out of Christian piety.  A Roma construction crew had restored the little jewel of a place, with shining woodwork and painted palm trees curving toward the ark.  The building is normally used for concerts.  The doctor had tears in his eyes to see actual Jews praying there.
For next year, Gabrea plans a Yiddish film festival in Bucharest; MECEFF may or may not include Yiddish films.  But Yiddish was certainly at home in Medias, a walled town still guarded by towers with window slits for pouring boiling oil down on Turkish attackers.   Remembering and forgetting—trying to make peace with the past while living fully in the present—is an apt theme here. When a Yiddish play is performed in Yiddish, the audience feels that the play and the language have come alive; but when a Yiddish film is shown, it is hard not to feel that it is mainly a glimpse of the dead past.  One struggles to watch it as a present art experience, as its makers intended, and not just a set of ghosts projected onto a screen.
Nahma Sandrow is the author of Vagabond Stars: A World History of Yiddish Theater, and, most recently, the librettist for an opera version of Isaac Bashevis Singer's Enemies: A Love Story, which premiered at Kentucky Opera this month. 
Tags:
Anti-Semitism
,
Arts & Culture
,
Europe
,
film
,
History
,
People & Places
,
Pre-Modern & Modern
,
Religious Life
,
Romania
,
Synagogue & Community
,
Yiddish
COMMENTS
Comments are closed for this article.