Synagogue & Community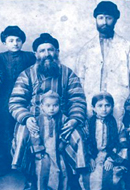 The Outliers
Friday, March 29, 2013 by
Allan Arkush
| Jewish Ideas Daily » Daily Features
Bukharan Jews are often viewed as a group of isolated exotics.  In fact, they are not so different that there has ever been much question about their belonging to the Jewish people.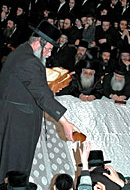 The Tish and the Thanksgiving Table
Wednesday, November 21, 2012 by
Allan Nadler
| Jewish Ideas Daily » Daily Features
In a scene in Avalon, Barry Levinson's cinematic memoir of growing up in Baltimore with his Yiddish-speaking immigrant parents, Uncle Gabriel Krichinsky, brilliantly played by Lou Jacobi, arrives—late, as usual—for the extended Krichinsky family's annual Thanksgiving dinner.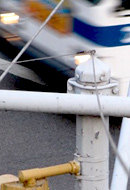 Keep Calm and Carry On
Tuesday, November 13, 2012 by
Dov Lerner
| Jewish Ideas Daily » Daily Features
Shabbat is designed to be a day of rest and communal prayer. But due to halakhic restrictions on their carrying items from one place to another, observant Jews can become prisoners in their own homes.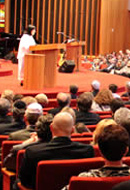 Can Reform Judaism Get Its Mojo Back?
Friday, November 9, 2012 by
Evan Moffic
| Jewish Ideas Daily » Daily Features
The American Jewish community as a whole cannot survive if there is no non-Orthodox movement to which American Jews can belong; in other words, survival depends on a strong Reform movement.  But in light of current trends, is that possible?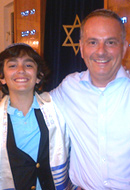 Return to Fulda
Once my son Harry's bar mitzvah teacher told him he was ready to read Torah and Haftarah fluently anywhere in the world, Harry decided that after his bar mitzvah in Washington, D.C. he would have a second bar mitzvah in Fulda, Germany.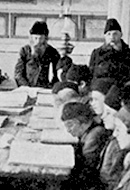 Yeshiva Revolution
Friday, September 7, 2012 by
Yoel Finkelman
| Jewish Ideas Daily » Daily Features
Shaul Stampfer, one of Israel's foremost experts on Eastern European Jewry, is the most unlikely of iconoclasts.  A thin, quiet, unassuming man, he gives the impression that he would have been happy as a simple melamed (elementary school teacher) in the shtetls he describes.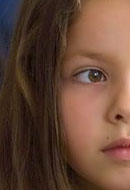 Are Day School Vouchers the Answer?
Tuesday, August 28, 2012 by
Moshe Sokolow
| Jewish Ideas Daily » Daily Features
Is Jewish education a parental or communal responsibility?  The privately funded heder, with its melamed, or tutor, emphasizes the parental aspect.  The publicly maintained talmud torah, or congregational school, emphasizes the communal obligation.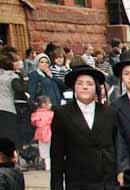 New York Jews: Growing in Numbers, Growing Apart
Thursday, July 5, 2012 by
Leslie Lenkowsky
| Jewish Ideas Daily » Daily Features
Ever since the first 23 Jewish settlers arrived in New Amsterdam in 1654, New York City has been the economic, cultural, religious and, not least, demographic center of Jewish life in North America.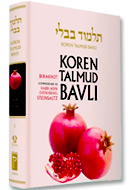 Englishing the Talmud
Tuesday, June 26, 2012 by
Yehudah Mirsky
| Jewish Ideas Daily » Daily Features
According to a rabbinic tradition recorded in the Talmud (Shabbat 12b), God's angels do not understand the Aramaic language in which the Talmud itself is mainly composed. As many a modern reader can testify, they're hardly alone.
The Chained Wife
Thursday, June 14, 2012 by
Micah Stein
| Jewish Ideas Daily » Daily Features
Yafa Friedman lives in a modest, two-story townhouse in Brooklyn. This past Sunday, the shades were drawn as a group of 30 protestors marched outside the house chanting, "Yafa Friedman—stop the abuse!"