Conferences: Why?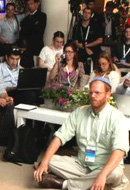 As Israelis take in the collapse of Netanyahu's grand coalition, ultra-Orthodox demonstrations in Jerusalem, and Tel Aviv tent protesters' lionization of an attempted suicide, it may have escaped general attention that none of these problems featured among the prophetic visions of last month's Presidential Conference, which charged itself with "Facing Tomorrow." The brainchild of President Shimon Peres, the fourth annual Presidential Conference took place over three days in Jerusalem's International Convention Center. Its vague theme mirrored the eclectic and scattershot nature of the conference's myriad sessions, panels, exhibits, and VIPs, yet left its attendees wondering what really tied the conference together and, perhaps more puzzlingly, why someone would want to foot its $3 million price tag.
At first glance, the Presidential Conference appears to be modeled on the annual meeting of the World Economic Forum in Davos, Switzerland: colored badges determine status and access; VIPs are accessible, mingling in the hallways, free of entourages; and the precise goal of the conference is obscure. One attends both conventions mainly because others are attending. Like nuclear reactors, such conferences are driven by the mechanics of bombardment; the sheer number of free-floating particles results in a greater chance of serendipitous collision.
Yet there is a crucial difference between the Presidential Conference and Davos. The Jerusalem conference is not nearly as exclusive; it is downright easy to obtain an invitation, and as a result it draws twice as many attendees as Davos. If Davos is dominated by business executives, the star power in Jerusalem is not nearly as concentrated and is divided more evenly between executives, politicians, media personalities, and academics. If Davos affords VIPs an opportunity to mingle with each other, the Israeli Presidential Conference allows ordinary people to interact with celebrities.
To gain a better understanding of the Presidential Conference, it is useful to contrast it with a far more important and exclusive Israeli gathering—the Herzliya Conference. Convened annually by the Interdisciplinary Center Herzliya, the conference is devoted to the discussion and articulation of Israeli foreign and defense policy. It has served as the occasion for some of the most important policy speeches by Israeli leaders (including, for example, the first endorsement of a Palestinian state by an Israeli prime minister). Herzliya focuses on real national policy, and the ideas articulated in Herzliya are often new and have far-reaching implications for Israel's future.
By contrast, the Presidential Conference trades primarily in optimism. It was created in the image of President Shimon Peres and still seems largely based on his utopian vision of a New Middle East. As president, Peres continues to broadcast the message that technology leads to prosperity which, in turn, leads to peace. This message was the vision behind the Oslo Accords, of which Peres was a primary architect, it animates his recent enamorment with social media, and it explains why he used his conference as a forum to push wildly unrealistic ventures, such as a national grid for electric cars, a hotel-lined canal linking the Red and Dead Seas, and an initiative to bring Arabs into Israel's high-tech sector en masse.
As a result, despite the declared theme of the conference, it does not truly "face tomorrow." Rather, it offers overly generous prognostications about technological advancements and consequent social evolution or economic opportunity, recycles a limited range of talking points about the big issues facing Israeli and Jewish society, and, just to make sure We're All Having Fun, mixes in some sexy discussions (in some cases literally, such as Dr. Ruth Westheimer's conversation on "The Future of Sex") not specifically related to Israel. The occasional sessions that are both forward-thinking and new tend to be sparsely attended.
At last year's Presidential Conference, for example, there was a panel on dilemmas regarding Israeli migration policy. The speakers included some important voices on the subject, including Karen Tal, the principal of the Bialik-Rogozin School, demographer Sergio DellaPergola, and William Tall, Representative of UNHCR in Israel. Less than a year before the issue would begin to dominate Israeli headlines, as the problem began to burgeon in earnest, this panel was entirely appropriate for a conference claiming to face the challenges of tomorrow.
And yet the room was mostly empty, and of the small army of twitterers and bloggers attending the conference, only two were live-tweeting that session. Everyone else was at racier, higher-profile sessions on the future of European Jewry, the city of Jerusalem, and the cooling of the American-Israeli love affair. Not to take anything away from the distinguished panelists (including a former U.S. congressman, several former ambassadors, community leaders, chief rabbis, professors, and famous journalists), but there was a strong sense that attending the conference was more about basking in the glow of celebrities and makhers than about confronting real issues.
This year, despite—or, perhaps, because of—the urgency of the issue, there was no session on immigration.
Those who haunted the Israeli Presidential Conference like Henry Adams haunted the 1900 Exposition Universelle in Paris, "aching to absorb knowledge, and helpless to find it," left frustrated. There was no enlightenment, no hope of hearing new ideas or balanced debate on pressing issues. Complaints that the conference was too homogeneous—too American, with women, Arabs, settlers, and Orthodox Jews under-represented among the speakers—were completely on the mark, while still missing the point.
So what, then, is the organizing principle of the Israeli Presidential Conference? Why is it worth spending millions of shekels to entertain the multitudes of bloggers, embassy staff, NGO workers, and businessmen? The answer may lie in something that the high-tech entrepreneur, Yossi Vardi, told a group of bloggers about Israel's "Start-Up Nation" paradigm: the model of creating cutting-edge tech companies that are later bought up by major corporations is sustainable as long as Israel continues to attract foreign investment in Israeli tech. It is not sufficient for companies like Cisco, Intel, IBM, Motorola, and Google to buy individual Israeli start-ups; the goal—which is being achieved—is for these global companies to buy up multiple start-ups in Israel, making them a significant presence in Israel's economy and Israel a core part of their global operations.
In other words, the conference is all about attracting foreign investment. Everything else—the exaggerated optimism, the celebrities and VIPs, the legions of young Israelis just happy to be part of the scene—is all designed to reinforce the core message. The motley crew is there to applaud as Cisco CEO John Chambers and President Peres launch their Maantech initiative, combining the key elements of technology, prosperity, peace, and investment from a major international company. Once a participant grasps that the goal of "Facing Tomorrow" is not really about facing tomorrow, he might find it easier to take it a bit less seriously, have a good time, and meet some interesting people in the hallways and lobbies. Indeed, that is the point: the conference exists to enable Israelis to face not the future but the rest of the world.
Elli Fischer, who lives in Israel, is a writer and translator and blogs at adderabbi.blogspot.com.
COMMENTS
Comments are closed for this article.