Israeli Presidential Conference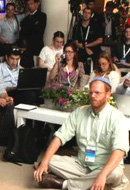 Conferences: Why?
Thursday, July 19, 2012 by
Elli Fischer
| Jewish Ideas Daily » Daily Features
As Israelis take in the collapse of Netanyahu's grand coalition, ultra-Orthodox demonstrations in Jerusalem, and Tel Aviv tent protesters' lionization of an attempted suicide, it may have escaped general attention that none of these problems featured among the prophetic visions of last month's Presidential Conference, which charged itself with "Facing Tomorrow."
Editors' Picks
The Reality Principle
Paula R. Stern
,
Jewish Press
. At the Israeli Presidential Conference, Ayaan Hirsi Ali stole the show with a sober reminder about what can be expected from Islam, really.