start-ups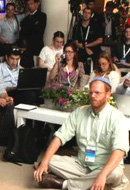 Conferences: Why?
Thursday, July 19, 2012 by
Elli Fischer
| Jewish Ideas Daily » Daily Features
As Israelis take in the collapse of Netanyahu's grand coalition, ultra-Orthodox demonstrations in Jerusalem, and Tel Aviv tent protesters' lionization of an attempted suicide, it may have escaped general attention that none of these problems featured among the prophetic visions of last month's Presidential Conference, which charged itself with "Facing Tomorrow."
Editors' Picks
More from the Start-up Nation
Karin Kloosterman
,
ISRAEL21C
. We need disease-resistant plants, but genetically modifying them is dangerous.  Now, an Israeli biotech company has a treatment that protects plants while leaving them genetically intact.
Start-Up Nation, Start-Up Choices
David Shamah
,
ZDNet
. Israel is living up to its hype as the "start-up nation," a great place to launch a high-tech company.  But exactly where in Israel should an entrepreneur put down roots?
Slow-Down Nation?
Ben Sales
,
Times of Israel
. It's not as easy as it once was for Israeli start-ups to get venture capital.  Will the country's high-tech industry decline—or learn to do more with less?