Yehuda Halevi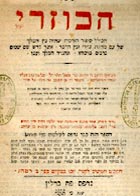 How golden was the Jewish "Golden Age" of Spain: roughly, the 10th–11th centuries C.E.? In the era's once-popular reputation for Muslim-Christian-Jewish tolerance and coexistence (convivencia), it is increasingly easy to see an overused and overstated fiction; more and more, scholarship reveals just how conflicted a time it was, and how conditional was the "tolerance" extended to minority communities.
Still, for Jews as for others it truly was a period of amazing cultural creativity and accomplishment, all the more astonishing in light of convivencia's constraints. Under Muslim rule, the most innovative Jewish achievements lay in the realms of poetry and philosophy. Standing at the summit of both, and creating an intellectual synthesis all his own, was Yehuda Halevi (ca. 1075–1141). In a shimmering gem of a new book, the critic and translator Hillel Halkin has brought to life, with vibrant and personal immediacy, the passions, ideas, sensibilities, convictions—and the voice—of this emblematic Jewish spirit.
A galaxy of extraordinary Hebrew poets wrought the Golden Age literary revolution, yielding a bounty of new secular genres and religious sensibilities. But for lyric beauty, emotional resonance, spiritual power, and sheer memorability, Halevi stands out. No less indelible is his prose magnum opus, the Kuzari. Written in Arabic, and reworking medieval philosophy in a distinctively Jewish key, it asserted the world-historical significance of Jewish particularity and physical existence with a fresh—and still provocative—vehemence, and left its mark on Jewish thought for all time. As for Halevi's personal saga, complete with his late-life turn against Golden Age Andalusia, his perilous pilgrimage to the Land of Israel, and his mysterious death, it quickly became the stuff of myth and legend.
Our own period has seen renewed interest in Halevi, of which Halkin's book, coruscating and compulsively readable, is an undoubted masterwork. It has also witnessed vigorous debates over his legacy. Was he a cosmopolitan humanist? A solitary mystic? The quintessential assimilated Jew? A proto-Zionist? The first Jewish romantic? A dangerous chauvinist, even a fascist? Such debates mirror the fractured perspectives of modern Jews themselves. Reviewing each of them before advancing his own bold readings, Halkin brings home both the tantalizing elusiveness of Halevi's life and the vital pertinence of his example.
COMMENTS
Comments are closed for this article.