Rebranding Poland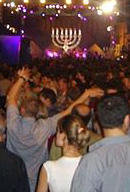 According to the organizers of a recent Jerusalem conference marking the 20th anniversary of diplomatic relations between Israel and Poland, the time has come for Jews to recognize the plain truth: Poland is Israel's best friend in the European Union. Moreover, they add, it is time to take a more nuanced view of Polish Jewish history altogether, to focus less single-mindedly on the killing fields implanted on Polish soil by Nazi Germany and more broadly on the preceding 1,000 years of Jewish civilization.
It's not an easy sell—and the reasons are plain enough. An image framed by Yitzhak Shamir, Israel's (Polish-born) former prime minister, persists: Poles imbibe anti-Semitism with their mothers' milk. To speak only of modern history: long before a single Nazi boot set foot in the country in 1939, Jewish college students had been forced to sit on segregated classroom benches. By 1937, a "cold pogrom" had systematically eliminated Jews from Polish economic life. In July 1941, 1,600 Jews in the town of Jedwabne were burned alive in a barn by local Poles before the Nazis could lay hands on them. After the war, a pogrom in Kielce claimed the lives of 42 Jews who had survived the Holocaust.
As for Communist Poland's post-war record, the generous word is spotty. To its credit, Poland allowed the Haganah to set up a military training camp and was among the first to recognize Israel's independence. But when Stalin's policy shifted against Israel, so did Poland's. By 1953 Israeli diplomats had been declared unwelcome. The elevation of Władysław Gomułka in 1956 briefly improved matters; although relations remained muted, Polish authorities permitted tens of thousands of Jews to emigrate to Israel. With the 1967 Six Day War, however, Gomułka broke diplomatic and trade relations and anti-Semitism returned as a salient element in domestic propaganda.
Low-level trade ties with Israel resumed in the 70s; by 1986, as the Soviet empire showed early signs of teetering, Poland sought improved contacts with Jerusalem in a transparent gesture aimed at impressing the U.S. "Jewish lobby" and thereby, presumably, Washington. After the Communists lost power in 1990, relations were re-established and ever since then democratic Poland has gone to great lengths to rebrand its image among Jews, including by creating, in 1995, the post of minister plenipotentiary for Polish-Jewish relations.
Over the years, President Shimon Peres, Prime Minister Benjamin Netanyahu, and Defense Minister Ehud Barak have all been welcomed in Poland. Israeli and Jewish authors are prominently featured in bookstores. Klezmer music is all the rage. A renewal of Jewish life is under way, manifest among other ways in the number of Poles discovering, or rediscovering, their Jewish roots and desirous of joining the organized Jewish community. A cultural festival in Krakow, sponsored principally by the Taube Foundation of San Francisco, draws Polish and international crowds; a Jewish museum is under construction in Warsaw.
Annual trade between Poland and Israel stands at $500 million. Polish entrepreneurs seek to invest in Israeli hi-tech; Israelis are active in Polish real estate. The Israeli company Teva ranks as the country's second largest pharmaceutical firm.
And Poland has indeed become an invaluable diplomatic asset within the EU—siding with Jerusalem against the tainted Goldstone Report, refusing to participate in the Durban II conference, derailing a Swedish initiative on Jerusalem inimical to Israeli interests, and assuming a leading role as Europe's voice against Mahmoud Ahmadinejad. In November, relations are to be taken to an even higher level when Poland's top leadership is expected to arrive in Israel for inter-ministerial meetings.
All Poland asks in return is for Israelis, and Jews, to view it with fresh eyes, not overlooking the ignoble aspects of Polish history but placing them in the context of a very long, at times positive, always complex relationship. For some Jews, influenced less by realpolitik than by still-searing memories, this may nevertheless be asking too much. Whether and when such attitudes will change are questions for the longer term.
COMMENTS
Comments are closed for this article.