World Jewish Congress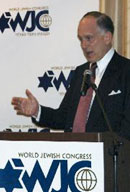 In a show of solidarity with Israel, leaders of the World Jewish Congress (WJC) will be gathering in Jerusalem at the end of the month. Not to be confused with the American Jewish Congress, of which it was originally an outgrowth, or the World Zionist Congress, founded by Theodor Herzl, the WJC is an umbrella group of Diaspora organizations (including the European Jewish Congress, the Latin American Jewish Congress, and others) that defines itself somewhat grandly as "the diplomatic arm of the Jewish people." If you haven't heard of it, there's a reason.
Relevant Links
Records of the World Jewish Congress
American Jewish Archives.
A complete inventory, including (in a file labeled
Day Book of the WJC 1939-1940
) confidential reports of actions on behalf of European Jews during World War II. (PDF)
Six Jewish notables have led the WJC since its August 1936 founding in Geneva, Switzerland by 280 delegates from 32 countries. They were led by Rabbi Stephen Wise, then the president of the American Jewish Congress, and Nahum Goldmann: two men who saw themselves as champions of ordinary Jews against a condescending Jewish oligarchy. During the Holocaust, the WJC struggled—in vain—to pressure Allied officials into helping European Jews in Hitler's clutches.
When Wise died in 1949, Goldmann took full charge, running the WJC until 1977. A "statesman without a state," Goldmann negotiated the 1952 agreement obligating West Germany to pay reparations to Holocaust victims. A lifelong contrarian, Goldmann was an ambivalent Zionist at best, and after 1967 he became an outspoken critic of Israel's retention of Judea and Samaria. By 1973, he was rumored to be funding Jewish radicals advocating unconditional recognition of the Palestine Liberation Organization.
Philip Klutznick, an American millionaire who basically shared Goldmann's worldview, briefly bridged the gap at WJC until the 1979 arrival of Canadian billionaire Edgar M. Bronfman, who would run it until 2007. Bronfman, too, dissented from Israeli policies, though more discreetly. On other fronts, he led a 1986 campaign against Austria's ceremonial president Kurt Waldheim, the former UN secretary-general, over his Nazi past, and in 2000 embarked on a drive to pressure museums to identify and return Nazi-looted art works that had been the property of Holocaust victims. He also played a role in lobbying the Vatican to establish diplomatic relations with Israel.
By 2005, the WJC had become incapacitated by allegations of financial irregularities involving its top professional. Bronfman finally sacked the executive in 2007, and over the ensuing three years, with Ronald S. Lauder now at the helm, the stain on the organization has largely dissipated.
Rather than dissenting from Israeli policies, Lauder is appreciated in Jerusalem for his warm support of the Netanyahu government's diplomacy. Lauder also published a stern open letter criticizing President Barack Obama's handling of the U.S.-Israel relationship—a foray into political suasion that, for some, only highlighted how seldom the WJC is heard from.
Goldmann may have imagined that the WJC would operate as a democratic Jewish institution, but that is hardly how he ran it; as for serving as a counter to the Jewish oligarchy, without wealthy individuals to bankroll its existence, the WJC would have disappeared long ago. Whether any organization can act or claim to act as the diplomatic arm of a fractious Diaspora has always been debatable—which, together with its lack of political acumen, may be why the WJC hardly figures on the communal radar. The question of the moment is whether its recent, heartening concern for securing the national homeland of the Jewish people augurs a revamped global mission and a more active and beneficial future.
COMMENTS
Comments are closed for this article.