High Concept in Dialogue With Tradition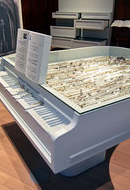 Even the richest Judaica exhibitions can run the risk of seeming either repetitive (one display case after another stuffed with, say, menorahs) or, alas, just plain baffling to viewers, Jewish or not, who are unfamiliar with Jewish tradition. 
But the traditional objects and artifacts of Jewish cultural history have never looked so freshly inviting or unexpectedly contemporary as in the provocative new exhibition at The Jewish Museum in New York titled, "As it were . . . So to speak:  A Museum Collection in Dialogue with Barbara Bloom." 
The exhibition, which runs through August 4, employs a high-concept perspective that combines visual wit with a sense of wonder at the beauty of the ritual objects whose meaning and use today may be obscure to non-Jews as well as many secular Jews—like artist Barbara Bloom herself.    It's a blend that instructs as well as entertains and respects history while making the old seem brand-new again.   
Admittedly lacking in any Jewish education or knowledge of tradition, conceptual artist Barbara Bloom, born in 1951, may at first seem an unlikely—or at least counterintuitive—person for the Jewish Museum to have invited to create an installation using selections from the 25,000 ceremonial, decorative, and fine art works in its collection.   But if the Jewish Museum wanted a fresh set of eyes to look at the collection, they found one.  Of the 276 objects displayed, 80 to 90 percent are objects that Jewish Museum curator Susan L. Braunstein, who coordinated the exhibition with Bloom, cannot recall ever having been on exhibit before. 
Bloom's artistic sensibility and free-ranging curiosity are as much on display as the collection itself as she engages "in dialogue" with it, just as the show's title promises.   Indeed, dialogue is Bloom's central metaphor, and she both employs and plays with the idea of conversation at several levels.   You're greeted at the entrance to the exhibition with a whispered hum of voices, recorded snippets of overlapping conversations fading in and out of decipherability—just the kind of ambient noise you'd expect at a party.   But the party Bloom asks you to imagine is populated by guests—and historical objects—that have been artfully gathered here as if for a lively, discussion-filled soirée that has been taking place over decades, centuries, and millennia, and is continuing right here in front of you.   It's a flight of fancy, to be sure, but it's also grounded in the fact that these distinctively Gothic, high-beamed, ornately paneled rooms are part of the historic Warburg family mansion, dating to the early 20th century, that houses the Jewish Museum and once upon a time actually served as the site of frequent gatherings hosted by the Warburgs.   
Enter the rooms, and you're struck by displays of objects notable not only for their intrinsic beauty or historic interest but also because they are presented in an arresting new way.  An array of spice boxes is seen in silhouette, behind a translucent scrim that seems to emphasize their ceremonial use in separating the end of the Sabbath from the rest of the week.  Teeny-tiny thumbnail-sized miniature Bibles from the 19th century, with print so small they must be read with a magnifying glass, are placed inside hollowed-out books that make up part of the shelves of a re-imagined Warburg library. Twelve different cups used for a variety of Jewish ceremonial purposes, from eras and locales ranging from the Eastern Mediterranean of the 1st century C.E. and 19th-century Bohemia to everyday commercial glassware used today at the Jewish Museum café, sit at table places around a circular dining room table in what was once the Warburg's dining room; all that's wanting is people to take their seats and toast one another. 
Still, beneath (and alongside) the party-like façade runs a serious commentary on the succeeding epochs of Jewish history.   Bloom may not be a student of the Talmud, but she pays tribute to that essential Jewish text and at the same time riffs on it in two ways.  First, she sees a model for her own juxtapositions of objects from different eras in the layout of a typical page of Talmud, in which the main text, dating from the first centuries of the Common Era, sits in the center and is surrounded in the margins on all sides by commentaries composed in later centuries.  In Bloom's design equivalent, each room features highly stylized furniture hollowed out or rejiggered to double as display cases. 
Second, Bloom devises a Talmud-like commentary of her own by providing abundant texts throughout the exhibition. These include excerpts from works by a multitude of scholars, authors, artists, poets, scientists, philosophers, and rabbis from across the globe and centuries, as well as by Bloom herself—all placed adjacent to one another and forming another way in which she furthers her idea of a continuous and ongoing dialogue among past, present, and future.  In addition, in a modern touch (and reference to Jonathan Rosen's book The Talmud and the Internet: A Journey Between Worlds), there is even a special computer display of a website produced to explore that metaphor. 
Most of all, contrasts of old objects in new and unexpected settings are the order of the day throughout the installation.  My favorite is the baby grand piano whose interior strings, wires, and hammers have been replaced by a dazzling array of dozens of glistening silver Torah pointers, used to keep one's place in reading the scrolls.  These elegantly slim rods (the Hebrew term is "yad," which means hand) of differing lengths almost always feature a thumb and pointing forefinger; so, what better way to demonstrate a new use than to aim several of these pointers at different keys on the keyboard?  Follow the pointing finger to the specific keys that are depressed and you'll discover the intertwined chords of pieces by two renowned Jewish composers of completely different genres:  George Gershwin and Arnold Schoenberg, both of whose music is open on the piano.    
Other examples include a vaguely Art Nouveau construction of a conjoined sofa and couch designed to suggest patient and analyst and hollowed out to illuminate Freudian artifacts (including Freud's actual cigar box); a display of amulets and a conjuring bowl in front of a mirror and make-up table; a marital bed whose headboard is crowned with an illuminated ritual wedding contract, a ketubah, but flanked with two examples of an official rabbinic divorce decree, or "get"; and a card table replete with ancient playing stones, as well as "The Game for the Dreyfus Affair and Truth," reproduced from an actual 1898 game.  
Some of Bloom's conceits do not work so successfully.  For instance, at the doorway to each room Bloom has positioned portrait paintings from the collection that are entirely covered except for the subject's eyes, as if to suggest the presence of others following you through the exhibition.  They merely made me curious about the rest of the painting that was concealed—her intention, perhaps, but to me a distraction. 
But the main point is that the museum took a risk here, and it has paid off.  "As it were . . . so to speak" invites you to talk about it even as you take it in.  
Diane Cole, author of the memoir After Great Pain:  A New Life Emerges, writes for The Wall Street Journal and other national publications and is a faculty member of the Skirball Center for Adult Jewish Learning at Temple Emanu-El inNew York.
COMMENTS
Comments are closed for this article.