Judaica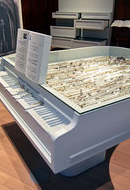 High Concept in Dialogue With Tradition
Thursday, May 9, 2013 by
Diane Cole
| Jewish Ideas Daily » Daily Features
The artifacts of Jewish cultural history have never looked so freshly inviting or unexpectedly contemporary as in a provocative new exhibition at New York's Jewish Museum.
Editors' Picks
Steinhardt Goes To Sotheby's
Jeannie Rosenfeld
,
Tablet
. An auction of the finest pieces from philanthropist Michael Steinhardt's Judaica collection will take place on Monday.  It is the most significant of its kind in 50 years.