Righteous Among Our Nation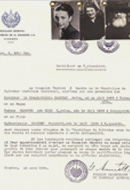 Even before visitors walk through the door of Yad Vashem, Israel's Holocaust Museum, they see a powerful tribute to Holocaust heroism. Along the Avenue of the Righteous leading to the museum, thousands of trees bloom in honor of the approximately 21,000 "Righteous Among the Nations," courageous Gentiles who defied the Nazis and risked their lives to save Jews from deportation.  There's a memorial tree for Miep Gies, the woman who hid Anne Frank in the secret annex, and another for Oskar Schindler, the Nazi who rescued 1,200 Jews.  The United States Holocaust Memorial Museum also devotes a section of its permanent exhibition to these individuals.
Such tributes are manifestly appropriate, but Holocaust museums generally omit another important group of rescuers: the 200 Jewish organizations within and outside Nazi Europe that worked to rescue fellow Jews from the Nazis.  Holocaust historian Nechama Tec—who, as a girl, was saved from the Nazis by Polish Catholics—has sought to remedy this lack of awareness with books such as her 2008 Defiance: The Bielski Partisans, now a movie, about two brothers, Polish Jews, who led thousands in armed resistance against the Nazis. Asking why historians, herself included, have generally ignored Jewish rescuers, Tec says, "Historically, Jews have been viewed as victims and not as rescuers, not as heroes. . . .  Had I assumed that victim and rescuer were incompatible roles?"
But this assumption may not be the only reason for the marginalization of Jewish rescuers.  Consider the stories of two such rescuers: Rudolf Kasztner and George Mandel-Mantello, Hungarian Jews from Kolozsvár, where my great-grandfather served as the chief rabbi of the city's 10,000 Orthodox Jews.  Kasztner was head of Hungary's Zionist Aid and Rescue Committee, an organization that had been assisting Jewish refugees in escaping to Hungary before it was occupied.  Through his efforts he heard that another Jewish rescue organization had successfully negotiated with Adolf Eichmann to stop Slovakian deportations to Auschwitz.  With brilliant acting and sheer chutzpah, Kasztner presented himself to Adolff Eichmann as a representative of an all-powerful "World Jewry," hoping to negotiate a ransom deal.   
In May 1944, Eichmann offered Kasztner safety for a million Jews in exchange for 10,000 trucks.  But Kasztner ran into problems raising the money, and Eichmann wavered.  Kasztner finally managed to make a deal that delivered 1,684 Jews—known as the "Kasztner transport" or "Kasztner train"—first to relative safety in Bergen-Belsen, then to Switzerland.  My father's family was among them. 
Although best known for his transport to Switzerland, Kasztner is also credited with negotiating for 18,000 Jews to be saved in a Strasshof labor camp instead of being sent to  Auschwitz. His negotiations may also have saved the remnant of the Budapest Jewish community at the end of the war.  An ardent Zionist, he subsequently made aliyah to Israel and joined Ben-Gurion's Mapai government.  But he was not destined to become a hero in the new Jewish state. In 1952, he became the subject of scandal when a fellow Hungarian Jew, Malkiel Gruenwald, accused him of collaborating with the Nazis by keeping Auschwitz a secret in order to save a select few for his own profit.
Ben-Gurion's government, on Kasztner's behalf, sued Gruenwald for libel.  Gruenwald's defense attorney, Shmuel Tamir, was a Herut party supporter who aimed to use the trial to topple the government. The two-year trial riveted the young Israeli nation, which had not yet seen the Holocaust discussed in such a public forum.
Kasztner lost his case.  The court publicly branded him a Nazi collaborator.  The government appealed and in 1958, Israel's Supreme Court overturned most of the lower court's judgment.  Kasztner, one judge wrote, "was motivated solely by the desire to save . . . the largest possible number" of Hungary's Jews "under the circumstances."  By then, however, Kasztner was dead, shot and killed by an assassin in 1957.
The other Jewish rescuer from Kolozsvár, György (George) Mandel, was in Geneva during the war.  While in Geneva he was lucky enough to befriend José Castellanos,  Consul General of El Salvador.  Castellanos invented the post of First Secretary of the Salvadoran Consulate and gave the job to Mandel, renamed for this purpose as "Mantello."  From his diplomatic post, Mantello issued certificates of protection for some 40,000 European Jews.  In 2008 the Washington Post ran a story on a documentary film about Mantello, whose story I had been previously unfamiliar with. I opened the paper, turned to the story—and to my surprise I saw the faces of my grandparents and uncle staring back at me, their names affixed to one of those certificates of protection. 
Mantello, like Kasztner, became a subject of controversy and scandal after the war.  According to historian David Kranzler, who described Mantello's rescue operation in his book The Man Who Stopped the Trains to Auschwitz, there were rumors after the war that Mandel had "dealt on the black market and profited from the 'sale' of Salvadoran papers." On account of these accusations he was denied entry to France and England and detained by Swiss authorities. Seeking to clear his name once and for all, Mantello asked the Swiss Jewish Committee to conduct a public inquiry into his behavior.  The inquiry, says Kranzler, "not only cleared Mantello of even the slightest wrongdoing, but also provided a highly complimentary portrait of this much-maligned rescue activist, even going so far as to imply that the accusations of various groups against Mantello were based primarily on envy."
Kasztner and Mantello actually crossed paths in the course of their rescue efforts—especially when it came to securing the arrival of the Kasztner transport into Switzerland.  And neither of their stories is simple.  They operated in the shadows and consorted with monsters.  Although they managed to orchestrate large-scale Jewish rescue missions, they couldn't save everyone.  But if we can honor Schindler, a Nazi, shouldn't we at least extend equal tribute to Jewish rescuers who operated in infinitely more precarious situations to cheat Hitler out of thousands of Jewish corpses?
Recent scholarship has begun to paint a more sympathetic picture of Kasztner.  In 2007, Yad Vashem accepted his archival papers on donation from his family, and the museum now has a room devoted to Jewish rescuers.  New York's Museum of Jewish Heritage has a display about Kasztner and educates about Jewish rescue.  But Gaylen Ross, producer and director of the award-winning documentary Killing Kasztner, says it remains a challenge to present the story of a Jewish rescuer.  Ross notes that there is a monument in Budapest to the famous non-Jewish rescuer Carl Lutz.  It depicts Lutz as a golden angel, a hand extended in salvation towards a pitiful Jew crying for help.  "Where does Kasztner fit into this picture?" Ross asks.  Simply put, he doesn't—which ought to move us to amend the main storyline of Holocaust rescue to include a group that the Jewish people should be proud to call our own.
Chaya Glasner is a fellow at the Tikvah Fund.
Tags:
Anti-Semitism
,
Arts & Culture
,
Europe
,
Events
,
History
,
History & Politics
,
Holocaust
,
Israel
,
Joel Teitelbaum
,
Leading Figures
,
Modern Times
,
People & Places
,
Rudolf Kasztner
,
The Americas
COMMENTS
Comments are closed for this article.