God & Theology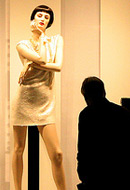 The Tenth Commandment and Thoughtcrime
Tuesday, May 29, 2012 by
Yehudah Mirsky
| Jewish Ideas Daily » Daily Features
The Ten Commandments lay out a blueprint for relations, first, between God and Israel and then, between God and humanity; the Shabbat serves as the hinge between the two.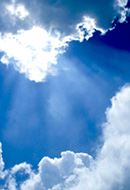 Back From Heaven
Wednesday, April 25, 2012 by
Micah Stein
| Jewish Ideas Daily » Daily Features
In May 2011, Gallup conducted its annual "Values and Beliefs" poll, seeking to quantify religious demographics and beliefs in America. One question struck a national nerve, eliciting a consensus that defied religious or cultural distinctions. The question: Do you believe in heaven? The answer: Yes, overwhelmingly.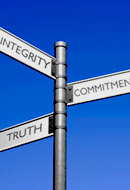 Jewish Ethics, from Ancient Bible to Modern Bus
The next time someone tells you that ethical behavior doesn't need a foundation in religious teaching, step onto an Israeli bus (it doesn't have to be the gender-segregated variety) or open a mass-circulation Israeli newspaper and see how religion puts Jewish ethics on steroids.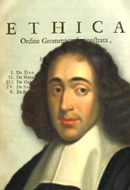 The Pale God
Friday, February 3, 2012 by
Aryeh Tepper
| Jewish Ideas Daily » Daily Features
Imagine God not as a benign force infusing the universe with love and sustaining it with mercy, and not as a stern judge smiting sinners from on high with his cosmic zap-gun, but as a grandfatherly figure, kind but, truth be told, somewhat out of it, sitting in a corner, tolerant of the various paths his children have chosen.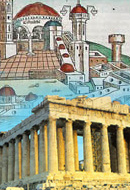 Jerusalem and Athens
Monday, December 26, 2011 by
Leo Strauss
| Jewish Ideas Daily » Daily Features
The holiday of Hanukkah is, in part, a celebration of the victory of traditionalist Jews over Jews bent on assimilation to Greek Seleucid culture.  As such, the second-century B.C.E. Maccabean revolt has resonated throughout the ages not only as a key historical contest, but as a wellspring for interpretations of the divergent views of the Hebrews and the Greeks.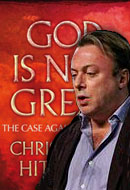 The Trouble with Hitchens
When Christopher Hitchens passed away yesterday at the age of 62, the encomia started pouring in almost immediately. Most of this praise is deserved, as the acumen of Hitchens's muscular criticism and the wit of his ripostes will be with us for a long time to come.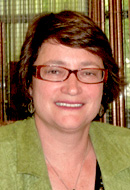 Is Judaism a Religion?
Tuesday, November 29, 2011 by
Lawrence Grossman
| Jewish Ideas Daily » Daily Features
There is no end to the conundrums involved in defining what it means to be a Jew. Must a Jew be someone who believes in the Jewish religion, in the way a Christian believes in Christianity or a Muslim in Islam? That can't be the case, since many devoted Jews are atheists.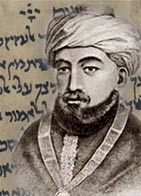 Who Owns Maimonides?
Wednesday, October 5, 2011 by
Joshua Halberstam
| Jewish Ideas Daily » Daily Features
Abraham Joshua Heschel once suggested that if one didn't know that "Maimonides" was a person, one would assume it was the name of a university. Heschel was referring to the monumental breadth and influence of the 12th-century philosopher's work.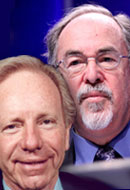 The Book of Life
Tuesday, September 27, 2011 by
Tevi Troy
| Jewish Ideas Daily » Daily Features
The High Holy Days are traditionally a time for introspection. Even the sturdiest soul must pause with trepidation over the more harrowing passages in the somber liturgy of Rosh Hashanah and Yom Kippur. Who shall live, and who shall die?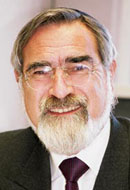 Rosh Hashanah with the Chief Rabbi
Tuesday, September 20, 2011 by
Lawrence Grossman
| Jewish Ideas Daily » Daily Features
Ten years ago, the first day of Rosh Hashanah—the two-day Jewish New Year—fell on September 18. That was one week after September 11, 2001, when almost 3,000 people were killed by Muslim terrorists. On that Rosh Hashanah, rabbis did not lack for sermon topics.