The Birth of Conservative Judaism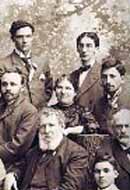 My little corner of Queens, New York, where the six Conservative synagogues that existed two decades ago have dwindled to two, epitomizes the national movement. In 1990, 43 percent of synagogue-affiliated households in the United States identified themselves as Conservative, making it the largest branch of American Judaism. By 2000 the figure was 33 percent, dropping the movement into second place behind Reform.
While no national survey has been conducted since, the latest New York City data offer more evidence of erosion: 34 percent of affiliated households were Conservative in 1991, 26 percent in 2002, and just 19 percent in 2011—less than either the Orthodox or Reform. No wonder that both the United Synagogue of Conservative Judaism and the Rabbinical Assembly, which represents Conservative rabbis, have discussed the need to "rebrand" the movement. "We are in deep trouble," said Rabbi Edward Feinstein of the flagship Valley Beth Shalom Synagogue in Encino, CA.  "There isn't a single demographic that is encouraging for the future of Conservative Judaism. None."
Conservative rabbis, leaders, and the rank-and-file would be well advised to take a time out from hand-wringing and rebranding to read The Birth of Conservative Judaism, a fascinating new history by Michael R. Cohen. Although Cohen does not directly address the current Conservative malaise, his account suggests that the movement's problems may be exacerbated by confusion about its origins.
Cohen shows that the prevalent view that has Conservative Judaism emerging out of a "Historical School" associated with Zacharias Frankel and his rabbinical academy in mid-nineteenth-century Breslau, Germany, is simple fantasy. He calls it a "deceptive retrospect," a kind of wishful thinking concocted by Conservative leaders—Mordecai Waxman, Moshe Davis, and Abraham Karp, to be specific—in the 1950s and 1960s to provide a distinguished historical pedigree to a movement that came into existence no earlier than the 1940s.

Granted, there was a Historical School that understood Judaism in terms of development over time and used the tools of historical analysis to uncover its truths, but it had both Reform and Orthodox sympathizers and did not constitute a religious movement. Solomon Schechter, the great Romanian-born British scholar responsible for bringing the vast Cairo Genizah to the attention of the world, was certainly one of its practitioners, and after crossing the Atlantic and assuming the presidency of the almost-moribund Jewish Theological Seminary (JTS) in New York in 1902, Schechter built a world-class faculty of distinguished academics.

But he did not intend to pioneer a movement. Rather, using the model of the United Synagogue in Great Britain, Schechter sought to create what Cohen calls "Americanized traditional Judaism" by training English-speaking, secularly educated rabbis who would preside over synagogues that would pray in Hebrew in decorous fashion and teach children using modern pedagogical methods. Beyond these few guidelines—which would presumably exclude only radical Reform and un-Americanized Orthodoxy—Schechter was open to virtually anything: separating the sexes in prayer or mixing them, having or not having organ music, and on and on. He used the term "Catholic Israel" to denote this big-tent Judaism.

Cohen is especially resourceful in tracking the careers of Schechter's students, who revered their mentor and maintained his commitment to pluralistic traditionalism in the United Synagogue of America, the congregational organization that they created and named after its British counterpart in 1913. Some considered themselves Orthodox rabbis in the full sense of the term, while others knowingly rejected elements of the tradition. But even the latter were not "Conservative" in any denominational sense, since that term had no precise meaning that distinguished it from Orthodoxy at the time. After all, men and women sat together at many of the synagogues that belonged to the Orthodox Union, founded in 1898, and whether a congregation affiliated with one or the other group seems to have often been a matter of whim or personalities.

By the 1930s strains were developing over how to keep proponents of fundamental religious change, such as Mordecai Kaplan, under the same big tent as traditionalists. Louis Ginzberg, the eminent professor of Talmud at JTS who served as an authority on Jewish law for the United Synagogue, consistently opposed any unilateral steps to reinterpret the halakhah, arguing that only a consensus of Orthodox rabbinic authority could do so—a lesson that Rabbi Louis Epstein, who identified as Orthodox, learned the hard way when he proposed a legal mechanism to end the problem of agunot: his colleagues in the United Synagogue declined to back him against the united opposition of organized Orthodoxy.
As Cohen notes, only after the deaths of Schechter's disciples did Conservatism take on the trappings of a movement separate and apart from Orthodoxy. He points to the publication of the first widely-accepted Conservative prayer book in 1946, which, among other "modernizing" changes, shifted the tense of references to the sacrifices so that they recalled the past rather than expressed aspirations for the future. Four years later came the decision to allow driving to the synagogue on the Sabbath, the first official break with Orthodox halakhah. From then on, what had been the "Orthodox" wing of the United Synagogue declined markedly as the institution of egalitarianism for women and homosexuals (including their acceptance as rabbis, and, as of this spring, same-sex marriage) left them denominationally homeless. 
So what would happen if all Conservative Jews read The Birth of Conservative Judaism? Even if they were convinced by Cohen's argument that their Judaism is of recent vintage and did not emerge out of hoary nineteenth-century German mists, could they rejuvenate the movement with a heavy dose of Schechter's Catholic Israel? That is very unlikely today, since the moderate Orthodox who might have followed Schechter a century ago have their own vibrant institutions, and the kind of moderate reformers who made up the other wing of Schechter's coalition can attend Reform synagogues where Hebrew is the language of prayer and attention is paid to the kosher laws.

Still, an awareness of how recently Conservative Judaism took on its current character may encourage more imaginative attempts to access its former vigor—a vigor that existed, after all, within living memory.  But for better or worse, Conservative Judaism cannot go home again.  
Lawrence Grossman, director of publications at the American Jewish Committee, edited the American Jewish Year Book from 2000 to 2008.
COMMENTS
Comments are closed for this article.