Returning to Pearl Harbor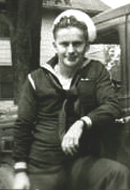 On Sunday, December 7, 1941, Vernon Olsen was a 21-year-old seaman assigned to mess hall duty aboard the USS Arizona, a battleship moored in the calm waters of Pearl Harbor. At 7:55 that morning, the ship's air raid alarm sounded as a wave of 183 Japanese planes began to rain armor-piercing bombs and torpedoes on the harbor. Olsen raced to his battle station above the ship's aft mast, but found the ammunition closet locked—a misguided precaution against domestic sabotage. So, he was forced to watch helplessly as enemy planes strafed the ship, one passing close enough so that he "could see the pilot smiling."
At 608 feet long and 97 feet wide, the Arizona presented an easy target for approaching planes. Within minutes it sustained four direct hits. The final bomb, which struck at 8:06 AM, penetrated the ship's forward deck and ignited the ammunition magazine, setting off an enormous explosion. Olsen was thrown from the deck into the water, where he swam to safety; 1,177 of his shipmates remained on board. Engulfed in flames, the Arizona quickly sank in the shallow harbor, where it continued to burn for three days and where it remains to this day.
Olsen, who passed away this year on April 22, was one of 233 sailors and marines aboard the Arizona to survive the Pearl Harbor attack. Today, on the 70th anniversary of that attack, Olsen returns to his ship and shipmates: His remains will be interred inside the wreckage of the Arizona. In a service conducted on the USS Arizona Memorial, a structure that sits in the harbor atop the hull of the Arizona and straddles the ship without touching it, Olsen's family will watch as a Navy diver places his cremated remains inside the ship's gun turret #4.
Olsen will be the 34th survivor to be interred in the ship. While his story is resonant for obvious reasons, his desire to be posthumously reunited with his ship and shipmates may be the most striking aspect of all. To Jews, Olsen's wish should sound familiar, since it echoes a distinctly Jewish response to death.
The importance of the burial location in Judaism traces back to the Bible. On his deathbed in Egypt, Jacob requests that his remains be transported back to Canaan. "Bury me with my fathers in the cave that is in the field of Ephron the Hittite, in the cave that is in the field of Makhpelah," he asks. "There they buried Abraham and Sarah his wife; there they buried Isaac and Rebekah his wife; and there I buried Leah." His sons agree, and Jacob is embalmed and transported to the Cave of Makhpelah for burial.
The practice of transferring bodies to Israel continued throughout the Bible and Talmud; and today, more than 1,500 Diaspora Jews follow Jacob's example every year. The State of Israel and modern air travel have drastically simplified the process; a number of organizations now offer all-inclusive funeral packages ("Burial in Israel—$5,000 Complete!").
Still, it remains difficult to account for this phenomenon. Why the Cave of Makhpelah? Why Pearl Harbor? Why Israel? To put it bluntly, why do we care—deeply, passionately, and expensively—where we are buried?
One clue can be found in the biblical language describing death. We read in Genesis 49, "And when Jacob made an end of charging his sons, he gathered up his feet into the bed, and expired, and was gathered unto his people." This curious phrase—which is also used to describe the passing of Abraham, Isaac, Moses, and Aaron—seems to suggest that death involves something more than mere biology. What exactly does being "gathered unto his people" entail?
In one sense, the phrase is physically descriptive. Eric Meyers, author of Jewish Ossuaries, explains that burial practices were once "characterized by the collection of skeletalized remains at some point after the flesh had wasted away and by their deposition in a new place of repose." Here, "gathering" refers to this harvesting of bones. Archeological evidence indicates that the process, called "secondary burial," continued into the second century C.E.
But the phrase also invokes a spiritual "gathering of souls" that is independent of the burial process. Moses, though he dies alone atop Mount Abarim, is reassured by the Lord that "you also shall be gathered to your people." In this context, "gathering" refers to his inclusion in a shared afterlife, what Meyers calls the "Ur-grave."
Today, though burial in Israel has become increasingly widespread, individual motivations remain diverse. For some, choosing Israel as a final resting place is a utilitarian decision: According to the Talmud, burial in Israel comes with a host of benefits, including priority resurrection status during the Messianic era. For others, it is meant to reaffirm a lifelong connection to Israel's past and establish a bond for the future. As one burial website puts it, "[Israel] is our homeland. To make arrangements for an enduring association with this land, even after death, is a meaningfully extension of this attachment." In both cases, the thinking reflects the geographical and cultural centrality of Israel to the Jewish identity.
Jacob's insistence on returning to the Cave of Makhpelah demonstrates our human desire to be buried with the people we love and respect. The growing popularity of posthumous aliyah reflects a desire to be buried in a place that carries deep personal and historical significance. In making funeral arrangements, we think and act like Vernon Olsen.
We seek, in death, that which eludes us in life. It may be a sense of belonging and ownership of the Holy Land, a reunion with the faith and fate of our ancestors, or closure to horrors of the past. For all these purposes, the act of burial—the final "gathering"—represents the last opportunity for resolution. Vernon Olsen, in the spirit of Jacob and the thousands of Jews who have emulated him, will be gathered to the people he loved and the place that most profoundly influenced his life. He was 91.
Micah Stein studied economics and American studies at Yeshiva University, and is currently a Fellow at the Tikvah Fund.
COMMENTS
Comments are closed for this article.