The Challenge of Eilat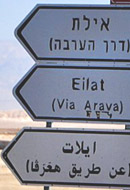 In a country where the sky is mostly blue, the southernmost city of Eilat has nonetheless laid claim—with justification—to being Israel's sun capital. Reliably good weather does not, however, solve all problems. Eilat's airport is antiquated; there is no rail service; and many of its young people can't wait to move out. More recently, it has been inundated with illegal (mostly Eritrean and Sudanese) immigrants. In July, Prime Minister Benjamin Netanyahu convened a high-powered committee charged with finding ways to rehabilitate the town's infrastructure from soup to nuts.
Relevant Links
Where Desalination Began
JTA.
Israeli scientist Alexander Zarchin discovered a method, first implemented in Eilat, of making seawater drinkable.
Porous Border
Amos Harel
,
Haaretz.
Some 20,000 African refugees have crossed into Israel illegally across a mostly open Negev boundary with Sinai.
A Jewish presence in Eilat is not new. The city is mentioned in Deuteronomy (2:8) in connection with the wanderings of the Israelites out of Egypt, and in 1 Kings (9:26) in connection with Solomon's creation of a "navy of ships." Jews held on to a hardscrabble existence possibly until Crusader times.
When in 1947 the UN voted to create an Arab and a Jewish state in Palestine, it gave the desolate though strategically located Eilat to the nascent state of Israel (though Israeli forces had to capture the place after the Arabs rejected partition). Settled out of Negev badlands, Eilat was incorporated in 1952 as a municipality of just several thousand souls. Murderous Fedayeen gangs from Gaza and Jordan set upon commuter buses serving the town; water had to be piped in until desalination plants liberated the inhabitants from their dependence on outside sources.
Eilat's port, which became crucial to Israel's trade with Africa and Asia and for oil imports from Iran, now handles about six percent of Israel's maritime trade, providing municipal revenues as well as jobs for 130 longshoremen. A longstanding eyesore, the port's activities create pollution that has repeatedly closed area beaches. A committee is now weighing a plan to relocate the docks and expand the hotel district, and privatization of the port itself is not out of the question.
Notwithstanding its early reputation as an "ill-planned honky-tonk" town, Eilat has blossomed over the decades as an ideal vacation destination, with a dry desert climate and an assortment of recreational activities from snorkeling and parasailing to duty-free shopping. Europeans, especially, find the city a good value. Looking out from the Gulf of Eilat and the Red Sea, a visitor can glance simultaneously at the Egyptian Sinai, Jordan, and Saudi Arabia. Just far enough away from the country's center to be designated an evacuation point in the event of all-out war, the city has been spared wartime violence—although it has not altogether escaped terrorist attack.
The city has been fortunate, too, to win the support of the organized North American Jewish community, which has invested in its school system. As of today, 72 percent of high-school students (up from a prior low of 27 percent) have passed their higher-education matriculation exams. In 2002, Ben-Gurion University of Beersheba began operating a local campus serving 700 students with dorm facilities funded by the UJA and free tuition for qualified locals who have completed their IDF service. Philanthropic support has also enabled Josephtal Hospital to provide state-of-the-art emergency services.
With 80 percent of its citizenry employed by the tourist industry, Eilat can't afford to lose its appeal as a carefree vacation spot. But even a casual visitor will notice what permanent residents cannot escape: the estimated 8,000 illegal African immigrants and the hundreds more workers who have been legalized for employment in the hotel industry. To be clear: most serious crimes in the city are committed by Israelis. Nevertheless, the poverty-stricken Africans, who now make up 14 percent of the city's total population of 56,000, cannot help altering its image. Their integration is an issue of the utmost urgency.
Eilat's citizens are hoping that Benjamin Netanyahu fulfills his pledge to "jump Eilat forward," including by accelerating construction of a fence along the Negev-Sinai border to block terrorist infiltration as well as further illegal immigration. Locals will also be watching to see what tangible steps the government takes to upgrade roads leading to the city, and to construct a rail link via Beersheba to Tel Aviv. Another rail link, to Ashdod, would allow passengers and freight to move between Israel's Red Sea and Mediterranean ports in a way that could indeed, in Netanyahu's words, "change Israel forever."
Whether the government acts on this promise is a matter not only for Eilat but for the other development towns settled in the 1950's in border and rural areas up and down Israel. At stake is meeting the perennial Zionist challenge of linking, finally, the center to the periphery.
Tags:
Anti-Semitism
,
Anti-Zionism
,
Bible
,
Events
,
History
,
History & Politics
,
Israel
,
Israel & the Near East
,
Modern Times
,
People & Places
,
The Islamic World
,
Torah
,
War & Peace
COMMENTS
Comments are closed for this article.