The Palestinian Mandela?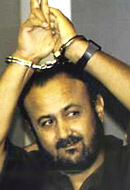 To his Israeli backers, Fatah leader Marwan Barghouti is the "Palestinian [Nelson] Mandela." That image—of a principled, graying freedom fighter with the courage to move his people toward reconciliation—is promoted by political and cultural figures on the Israeli Left, from Uri Avnery and Amos Oz to the politicians Haim Oron, Benjamin Ben Eliezer, and Amir Peretz. To these men, when Mahmoud Abbas leaves the scene, Barghouti is the redeemer to lead "Palestine" to peace with Israel.
Relevant Links
Smooth Criminal
Lindsey Hilsum
,
YouTube.
Speaking from prison to a sympathetic journalist in 2006, Barghouti invokes the South Africa and Mandela analogies. (Video)
Who is Barghouti? He belongs to a prominent Palestinian clan and was a youthful activist in the first intifada that beginning in 1987 sought to force Israel out of the West Bank and claimed nearly 200 Israeli and over 1,300 Palestinian Arab lives. Israel jailed and deported Barghouti twice, only to see him return as a senior Fatah leader after the 1993 Oslo Accords were signed. Fluent in Hebrew, he was a favorite participant at Israeli "peace camp" events (the New York Times once described him as "charming, articulate and intelligent, even if a bit of a showboat").
Barghouti served as a ranking member of the Al-Aksa Martyrs' Brigade and provided West Bank terror gangs with cash and guns to stoke the second intifada that began in September 2000. Still, he never stopped insisting that he opposed terrorism, especially within pre-1967 Israel. Even while proclaiming his commitment to peaceful coexistence (contingent on an Israeli withdrawal to the vulnerable 1949 armistice lines), he led openly violent demonstrations against the "occupation" and clandestinely co-founded Tanzim, a new Fatah-aligned terror faction. Culpable in the murder of tens of Israelis (and a Greek Orthodox monk mistaken for a Jew), he is now serving a life sentence in an Israeli penitentiary.
In prison, Barghouti has honed his gift for dissimulation, swiftly reinventing himself as a "dissident" and a scholar. In a recent interview, Barghouti, master of the oxymoron, called for "peaceful resistance . . . at this point in time." For Time's Karl Vick—who corresponded with Barghouti through his lawyers—the "setting" (which the reporter could only conjure up) recalled Robben Island in apartheid South Africa. Having disingenuously smeared Israel with the analogy, Vick promptly backpedaled: "Comparisons with Arafat are more apt."
Unsurprisingly, prison has made Barghouti ever more popular with the Palestinian masses who—like him—are ambivalent about the utility of yet another paroxysm of intifada violence. Barghouti is a strong advocate of reconciliation between Hamas and Fatah and would defeat Hamas's Ismail Haniyeh in any Palestinian leadership contest. He also is adept at telling Palestinians what they want to hear: that they are the "generators of the longest armed revolution in modern history" facing a colonialist enemy whose cruelty "is unparalleled"; that peace talks are futile in the quest to push Israel back to the old armistice lines; that Palestinians should march in the millions this September to demand the UN unilaterally declare a Palestinian state on the PLO's terms.
In point of fact, there was never much evidence to substantiate the notion that the Palestinian Arabs want a Mandela-like leader. Certainly, their xenophobic war against Zionism is no parallel to the African struggle against apartheid. As for the straw man argument that Israelis reject Barghouti because of his violent history, it's worth recalling that in shaking hands with the insalubrious Arafat, Yitzhak Rabin calculated (wrongly, it turned out) that "you make peace with your enemies—not the Queen of Holland."
But there is no evidence that Barghouti has shown a capacity for being able to move from enemy to peace partner. His two-state solution is ominously reminiscent of Arafat's 1974 scheme for the phased destruction of Israel—which underpinned the PLO's approach to Oslo.
Two years after Barghouti's capture, Oslo architect Yossi Beilin recounted Barghouti's telling him that his purpose in unleashing an orgy of violence against Israel was to capture the Palestinian street, which would otherwise fall to Hamas. Beilin found Barghouti's explanation "cynical" and "frightening." But, having evidently gotten over his sense of betrayal, he has joined other Israeli leftists in advocating Barghouti's release.
The truth, as most Israelis realize, is that the Palestinian Arabs have no realistic plan forward and Barghouti is incapable of providing them with one. Rather than leading his people to a sustainable two-state solution, coexistence with Israel, and, ultimately, reconciliation, he trails behind them toward one more dead end. In The Long Walk to Freedom, Mandela wrote that "If you want to make peace with your enemy, you have to work with your enemy. Then he becomes your partner." By this and other definitions, Barghouti is no partner.
COMMENTS
Comments are closed for this article.