Comeback Kids?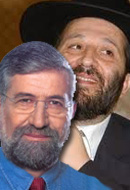 Israeli elections are far off. But two familiar figures, only recently down and out, have re-emerged at opposite ends of the political spectrum, setting journalists and veteran observers to wonder about the future shape of things.
Amram Mitzna is the Benny Begin of the Zionist Left: upright, abstemious, never anyone's bet to lead his ideological camp to political victory. Kibbutz-born, a dovish ex-general, Mitzna clashed with defense minister Ariel Sharon in 1982 over the massacre of Palestinians by Lebanese Christian forces in Beirut. In 1987, Mitzna found himself the IDF's commanding officer in the West Bank at the outbreak of the first intifada. Convinced that "force is not the answer," he took a leave of absence to study abroad. By 1993, post-army, he was elected mayor of Haifa.
As head of the Labor party during the second intifada, Mitzna was vanquished by Sharon in the 2003 elections. He quit national politics in 2005 and accepted appointment as mayor of Yeruham, a beleaguered Negev development town whose subsequent renewal has been credited to his hard work and talent for public administration. Now, at sixty-five, Mitzna says he has "a burning urge to bring a change" to the country and is weighing a fresh run for the Labor-party leadership.
The other politician making a comeback, though not within his original party, is Aryeh Deri, going on fifty-two. Deri came to Israel from Morocco at age nine, studied at a prestigious Ashkenazi yeshiva, and—in contrast to many ultra-Orthodox youths—went into the army. In 1986, he was tapped by Ovadiah Yosef, the former Sephardi chief rabbi, to head the fledgling Shas party. There Deri honed his skills as a powerbroker until, in 1999, he was convicted of channeling tax money to party institutions and his career abruptly ended.
Now, chastened and changed, Deri is poised to re-enter politics. Studying English and French to burnish his cosmopolitan credentials, estranged from his nonagenarian mentor, and despised by Eli Yishai, his successor as head of Shas, Deri plans to form a new, populist, cross-sectional, and ideologically moderate party.
The two comeback kids are a study in contrasts. Mitzna abandoned the Knesset to take personal responsibility for Labor's rout; Deri left kicking and screaming and only because he was sent to prison. Mitzna is from the Ashkenazi elite; Deri from the Sephardi underclass. Deri is a political animal; Mitzna lacks the killer instinct. Deri is charismatic; Mitzna is humorless. With his knack for friendship, Deri, who keeps his innate dovishness understated, has the potential of capturing support well beyond his own ultra-Orthodox base. Mitzna has embraced the far-fetched Geneva Initiative as his platform on the Palestinian issue and is unlikely to win over many not predisposed to his views.
Could Mitzna's return, nevertheless, be a boon to the leaderless and rudderless Zionist Left? Labor is experiencing an identity crisis, with many stalwarts complaining that Ehud Barak, the current party leader, has sold out by partnering with the Netanyahu government. For his part, Barak, as inscrutable as he is unpopular, has invited Mitzna to run for the party leadership. Others are convinced that Mitzna's dovishness will drive Labor voters straight into the arms of the Center-Left Kadima party.
Meanwhile, Yossi Kucik, a political strategist and former aide to Barak, is working to create a left-wing amalgam that would include Labor, the atrophied Meretz party, and various engaging personalities to improve the Left's prospects in the next election. But can Labor, which has essentially embraced neo-liberal economics, run in tandem with social-democratic Meretz? Would Mitzna be willing to downplay his discredited views on the "peace process" and campaign as a good-government candidate with demonstrated skills of implementation?
With Mitzna at the helm, polls show Labor capturing no more than the thirteen seats it currently holds. What this suggests is that if, next time out, Mitzna manages to stay the course, he could keep Labor in the opposition and mold it in his own image: principled, respected, and perennially out of power.
As for Deri's second coming, it could ironically undercut the very ethno-politics he once practiced so well. Shas is going through an identity crisis of its own, with one dissident Knesset member, Haim Amsalam—who hopes to join forces with Deri—asking how the party came to "distort" its original social mandate by championing ultra-Orthodox insularity.
Deri himself has no interest in remaining on the opposition benches. According to polls, his new party would win at least eight Knesset seats at Shas's expense. Were he to succeed in building a truly broad-based party, odds are he could do considerably better yet, parlaying his mandates into a strong presence around a future cabinet table.
Whatever this tale of two candidates says about the contrasting personalities involved, it says as much if not more about the constellation of forces in contemporary Israeli politics.
COMMENTS
Comments are closed for this article.