Jumping with Dance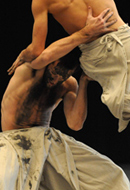 "I don't like that people think Israel: war, guns, army. This doesn't really color who we are."  Thus speaks Ohad Naharin, artistic director of the Batsheva dance company, which recently completed a triumphantly successful round of performances in New York. To tell the story, and the significance, of modern dance in Israel is indeed to add a bright and distinctive hue to the "color" both of the state and of its cultural achievements, among which Batsheva occupies a place of shining honor. 
Relevant Links
Branded
Susie Linfield
,
Forward.
During Batsheva's recent New York engagement, audience members had to walk past a cacophonous anti-Israel demonstration—which didn't dim their enthusiasm for the dancers.
Offensive Moves?
Anna Kisselgoff
,
New York Times.
Was Batsheva's
Kyr
("Wall"), in which the dancers cast off their clothes to the accompaniment of a traditional Passover song, intended as an offense to the religious?
Long before Israel's creation in 1948, folk dance, adapted from European traditions, had been an integral part of the nascent country's culture. But by the late 1940s, Western dance was making its crucial transition into modern dance, which was exactly what the "new Jews" of the Zionist renaissance—among them Margalit Ornstein, founder in 1922 of the first school of dance in Mandate Palestine—had been searching for: the larger-than-life urgency, the spirituality, the connection to the land, the proud expressionism.  In photographs of the period, dancers are shown leaping on rooftops, on kibbutz lawns, on the beach. The possibilities seemed endless. 
At the same time, Martha Graham, the unquestioned celebrity of American modern dance, was establishing her school in New York. One of her students was Batsheva de Rothschild, of the famous banking family. The two grew close, and Rothschild, when she moved to Israel in 1964, founded Batsheva, later to become the country's national company. She appointed Graham as its first director. 
Although modern dance continued to have a strong presence in Israel, like everything else it was shaken by political agitation and war. Pieces like Rami Be'er's Reservist Diary (1987), depicting an Israeli soldier's crisis of conscience during the first intifada, created a storm of media controversy. But then, in 1990, Naharin became Batsheva's artistic director and choreographer, and Israel exploded onto the international dance stage. 
Naharin was born in 1952; his father was a psychologist, and his mother taught the Feldenkrais method of movement (named for an Israeli physicist whose ideas were studied worldwide). The boy loved dance, but did not train until after his service in the IDF, when he joined Batsheva. His talent was quickly spotted by Graham. Joining her company in New York, he absorbed Graham's earthy geometric idiom of contraction-and-release, spirals, and oppositional forces.  As Graham created and trained dancers in her technique, so Naharin would create his own technique, known as Gaga. ("I was tired of saying 'my movement language,' and I like [Gaga] for its phonetic sound and look.")
Graham's archetypes and heroic myths had resonated deeply with Israel's first citizens, trying to forge a new group identity in an old-new homeland. By contrast, Naharin speaks the language of the individual, of sensation, experience, pleasure. That last word is important in Gaga, and marks a refreshing change from the coldly theoretical strain of contemporary choreography brought to prominence by Merce Cunningham.  Naharin, who has something of the aura of a guru as he dispenses his gravel-voiced aphorisms, instructs his dancers to "connect effort to pleasure."  "Pull your flesh away from your bones." "Increase the space in your joints." "Float." One is told to feel a circle, not to form a circle—and, crucially, one cannot stop to think but must keep moving continuously. If this makes Gaga sound like an improbable candidate for the next big exercise craze, it is—and yet it is also tremendously popular, with workshops cropping up everywhere, faster than Batsheva can train and certify teachers for them. 
As the years go on, Naharin's choreography has become more disjointed, nervy, fitful.  In this, he still shows Graham's sense of urgency, but the work is tender rather than brutal.  Batsheva's dancers also have a maturity and a dedication unusual even in the hyper-dedicated dance world.  They skew older, precisely because so many are veterans of military service—hence, perhaps, both their willingness to take headlong risks and, simultaneously, their ability to work in precise unison. This, indeed, may be one sign of their Israeli-ness—though Naharin himself has sharp words for critics who read the intensity of his dancers as a function of their army experience.  ("I think Israel doesn't have exclusivity on drama, on aggression, on fear, and on fighting for lives.")
"The Israeli children of American dance": that is how the New York Times critic Clive Barnes characterized the Batsheva company after seeing its American debut in 1970. There is something to this, even now that the troupe is avowedly international, with dancers hailing from Australia and Taiwan as well as the U.S. and Israel. But there is more to be said. Not only is there an unmistakably Israeli quality to Batsheva's dances, but Naharin also embraces Jewish history and Jewish ritual head-on, as the titles of his pieces—Hora, Kyr, Mabul—attest. 
One of the company's best-known works is Black Milk, choreographed in 1984 for the women of the Kibbutz Contemporary Dance Company and recast in 1992 for Batsheva men.  Formally, the piece comes out of the classical modern dance vocabulary of runs, leaps, and arches, but its title alludes to Paul Celan's Holocaust poem, "Death Fugue."  Axioma 7, set to the Fourth Brandenburg Concerto, has a brief, horrifying passage in which a line of undressed dancers carry their own bunched-up clothes: on Jewish dancers, set against the Germanic strains of Bach, an unmistakable allusion to the gas chambers.  A 1990 work, Kyr ("Wall"), set off a fiery religious protest in Israel when it was taken, by some, to be an attack on ultra-Orthodox Jews; it is nothing of the sort.
Returning from Israel recently, Wendy Perron, the editor of Dance Magazine, reported that the country is "just jumping with dance." In large measure, the credit goes to the inventiveness, the integrity, and the wit of Naharin, and to the dancers who bring his Orphic and unorthodox vision to life. The rest goes to the jumping spirit of his countrymen, about whom Naharin also happens to be right: war, guns, army do not begin to color who they are.
COMMENTS
Comments are closed for this article.