Good Girl Gone Bad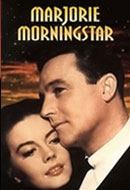 Fifty-five years ago, a star was born: plucky, lucky Marjorie Morningstar, the "American Everygirl who happens to be Jewish." At least, that's how Time described her. Today, depending on whom you ask, Herman Wouk's 1955 novel, Marjorie Morningstar, is either the story of the romantic awakening of a blue-eyed Jewish beauty or a cautionary tale about what happens when you stray too far from your origins.
Born Marjorie Morgenstern in 1916 (a year after the birth of her creator), our heroine appears to us first as an undergraduate at Hunter College in New York, dreaming of becoming an actress and striving to rid herself of every mitzvah and mannerism that comprised her identity.  She Anglicizes her Semitic surname, dabbles in sex, and engages in the years-long pursuit of a dilettantish stage director—all without success. In the end, never having seen her stage name on a marquee, she settles for settling down with a steady husband, children, and a return to religious observance. 
The failure of Marjorie's artistic ambitions was Wouk's wild success. The novelist had already had a bestseller in The Caine Mutiny (1952), but Marjorie was a phenomenon, selling more copies than any American novel since Gone with the Wind and continuing to sell to this day. This is not attributable to Wouk's artistry. A prime example of the literary category that the critic Pearl K. Bell dubbed the "good bad book," the novel is witty and memorable to a fault—and also solidly middlebrow, clumsily written, and twice as long as it should be. In prose simultaneously flat and overwritten, the characters announce their emotions like restaurant orders, and symbols are dropped into the text like cartoon anvils. In the first twenty pages, Marjorie is thrown by a horse named Prince Charming. Pursuing her free spirit—first cigarettes, alcohol, and bad company, then shellfish, pork, and sex—she falls in love with a luftmentsh named Airman. After the two consummate their love, she gropes on the night table for cigarettes and accidentally breaks a glass—the traditional conclusion to a Jewish wedding. "Shock, shock, and it was over" is Wouk's description of the quite literal anticlimax: Marjorie's Recline and Fall.
The columnist Florence King once observed that in college in the 1950s, her "Wasp sorority sisters" identified so strongly with this Jewish heroine that they "even made the connection between loosening sexual standards and loosening kosher standards." The sisters were on to something. Wouk became Orthodox in his mid-twenties; four years after Marjorie, he published This Is My God, an "account of the Jewish faith" that has enjoyed a similarly long shelf life. And critics at the time did spot Wouk the religious apologist peeking out from the wings. Reviewing Marjorie, Norman Podhoretz accused the author of dishonesty: "the kind of Judaism which involves dietary laws and certain other observances is in a crisis—and not simply because the Noel Airmans of this world jeer at them."
More generally, and also from the start, Marjorie's story has been read in a political light.  The book is conservative, it is said, not just because the Bronx striver ends up as Mrs. Milton Schwartz of the Suburbs but because Wouk is intent on showing that having been Noel Airman's girl in Greenwich Village wasn't really so great to begin with. As lobster is a let-down, so is sex, so is liberation.  Responding in the Nation to a glowing cover story on Wouk in Time, Maxwell Geismar condemned an age, "the Age of Wouk," characterized by "the impulse of revolt, but not the act; just as Marjorie . . . . must first rebel against her environment in order properly to conform to it."
True, but not the whole truth. Wouk asserts that Marjorie's best joys reside in tame, kosher amusements: watching a sunset, dancing, reading scripts. But it's as if he can't bear to prove the point. If forbidden food and forbidden sex and trashy theater are rigged and unfair and no damn fun, why does his heroine keep coming back for more and more of them? By choosing Morality over Marjorie while indulging Marjorie over Morality, Wouk creates a character, call her a puritanical sybarite, much more intriguing than he may have intended. 
And there's something else. Marjorie is not the only striver in the book—her ambitions are set against a backdrop of aspiring immigrant life. (Among its other faults, the 1958 movie adaptation of the novel dispenses with all of this.) Marjorie's orphaned father became, at fifteen, "a fleck of foam on the great wave of immigration from Eastern Europe," working himself up in the millinery business. At Marjorie's age, her mother was a Yiddish-speaking immigrant in a Brooklyn sweatshop.  Her Falstaffian uncle worked as a night watchman and a dish washer. "But a nickel, Modgerie, a nickel I alvays had, to buy you a Hershey bar ven I came to this house."
In This Is My God, Wouk writes that "even the enemies of the Jews have long recognized the stability of the Jewish family." Marjorie's parents fought hard for that stability, and were able to give their children better educations and material provisions than they had enjoyed: good, safe, assimilated, working-class lives that became middle-class lives. Marjorie's children in turn will have led upper-middle-class lives. Much can be said about what was gained and what was lost along the way, for the boys and the girls alike; but by whose perspective is this a tragedy?  
So spare a thought for plucky, unlucky Marjorie on her fifty-fifth.  Anna Karenina and Jane Eyre and Lady Macbeth and Catherine Earnshaw are for humanity, and for the ages.  Marjorie is just for us girls.
COMMENTS
Comments are closed for this article.