All That (Israeli) Jazz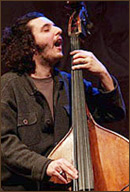 Add jazz to the growing list of fields in which Israelis are taking their place among the international elite. As the American magazine JazzTimes gushed in May 2008, "When it comes to jazz, Israel is the source of an almost miraculous outpouring of talent."
Relevant Links
At the Jazz Standard
Omer Avital
,
YouTube.
The Omer Avital Quintet makes a joyful noise in New York with the Spanish-flavored piece,
Simcha
, "Happiness." (Video)
Oak Tree
Avishai Cohen
,
YouTube.
With percussive sweetness, Avishai Cohen plays and sings. (Video; performance begins at 1:30.)
Hatikvah Heat
Daniel Zamir
,
YouTube.
Daniel Zamir's characteristic musical attack is on display in this jazzed-up version of Israel's national anthem. (Video)
Before they contributed to the miracle, a modest group of Israeli musicians moved to the U.S. in the early 1990's to study at the New School for Jazz and Contemporary Music in New York and the Berklee College of Music in Boston. Living together and supporting each other, they also developed their individual voices and set out to break into the local scene. Two bass players, Avishai Cohen and Omer Avital, quickly succeeded.
Cohen's rhythmic élan merited the attention of the renowned pianist Chick Corea, who invited him to join his band and helped him land a major record deal. Going on to record extensively, Cohen has added Middle Eastern rhythms and Latin sounds into a self-assured mix. Avital, meanwhile, was establishing a working band on New York's Lower East Side and testing his musical ideas on stage night after night. Ten years later, his raucous and exhilarating sessions at Small's jazz club are being released to critical acclaim. In the intervening decade, Avital has studied the oud and explored different kinds of Middle Eastern, especially Moroccan Jewish, music. Today he's hard at work bringing musical worlds together.
Along with Cohen and Avital, a number of other Israelis established themselves in the U.S: Eli Degibri on saxophone, Avi Leibovitz on trombone, and the Cohen siblings—Anat, Yuval, and Avishai (yes, there are two Avishai Cohens playing jazz professionally)—on reeds, saxophone, and trumpet respectively. A newer generation featuring Daniel Zamir on saxophone and Omer Klein on piano soon arrived and won recognition as well. Like their predecessors, they too have been busy combining disparate musical traditions: Klein is a student of North African music, while Zamir—a newly religious member of Chabad—adds hasidic music to the mix.
The Israel-East Coast connection proved to be a two-way street. In 1997, Arnie Lawrence, a founder of New York's New School for Jazz and Contemporary Music, moved to Israel and established the International Center for Creative Music on the outskirts of Jerusalem. Many young Israeli musicians, including Omri Mor, credit this veteran American player with having deeply influenced their careers. Lawrence, who died in 2005, would be gratified to know that in 2009 the New School decided to partner with Tel Aviv's Center for Jazz Studies. Israelis can now win a degree in performance by studying for two years in Tel Aviv and two in New York. For its part, Boston's Berklee grants college-level credit to graduates of the jazz program at the Thelma Yellin High School of the Performing Arts in Givatayim, the incubator of several talents mentioned here.
These, in short, are heady days. In January, a new jazz-only club, Shablul, opened in Tel Aviv, and last month the first-ever festival of Israeli jazz took place in New York. ("Somebody had to do it," quipped Roberto Rodriguez, the non-Jewish Cuban curator.) In an especially intriguing sign of just how far the form is poised to penetrate local culture, Daniel Zamir has been appointed artistic director at Mizmor, Israel's first-ever religious school of music, scheduled to open its doors in September.
To what can one attribute the stunning emergence of Israel's jazz community? Different factors have been adduced—education, culture, mentality—but one element is fundamental. An exquisite tension between the collective imperative and the individual voice is a salient characteristic of jazz; it also happens to be a salient characteristic of the air Israelis breathe.
COMMENTS
Comments are closed for this article.