Covering the Bases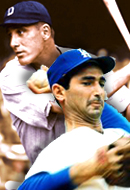 The joint was filled, just as Dodger Stadium so often was during the 1960s whenever a certain left-hander took his turn on the mound, winning games and admirers, a sports hero unlike any other for Jews in America.  They came to honor his legacy, and the legacy of other Jews who participated in major league baseball, the magic of Sandy Koufax not dimmed one bit by the cruel passage of time. Just as he did in those all-too-brief years in uniform—arm troubles forced him to retire at age 30—Koufax (he wasn't in attendance, although it almost seemed as if he were) was the star of the show, "A Night of Jewish Baseball," held recently at the American Jewish Historical Society's Center for Jewish History in New York.
Relevant Links
Judaism on Steroids
Micah Stein
,
Jewish Ideas Daily.
Before we condemn Ryan Braun, it is important to remember that performance-enhancing drugs have a long history—both in baseball and in Judaism.
Jews and Black Baseball
Michael Carasik
,
Jewish Ideas Daily.
The story of how African-Americans came to be integrated into major league baseball was significantly affected by the role that Jews played in the baseball enterprise.
Like a Player
Elli Fischer
,
Jewish Ideas Daily.
Sports fans and religious adherents often speak the same language, so when these two empires intersect, it is no surprise that there is often a struggle for primacy.
The turnout—they sold 250 tickets and could have sold at least another 100—surprised even AJHS executive director Jonathan Karp.  "I was reluctant to experiment with this kind of thing because I was not sure how much interest there would really be out there," Karp said.  "We are such a small organization that if we are going to invest in something we have to feel confident that it's going to attract a lot of attention."

The event attracted a lot of attention, all right, from the first pitch to the final out.  Visitors sampled the abundant food, which included Hebrew National hotdogs—this is baseball, after all—and put in bids in a silent auction for roughly a dozen impressive items, like a Derek Jeter jersey, a private tour of the Baseball Hall of Fame in Cooperstown, tickets to upcoming Mets and Yankees games, and a new lithograph from artist Ron Lewis of more than two dozen Jews who have competed in the bigs.  The piece went for $7,000.

The focus of the evening, though, was a panel discussion, which featured Jane Leavy, author of a best-selling Koufax biography; ex-New York Times columnist Ira Berkow; New Republic editor Franklin Foer, who recently published Jewish Jocks, and former major leaguers Art Shamsky and Ron Blomberg.  The talk was spirited and substantive, a warm tribute to the past—in addition to Koufax, the other Jewish icon in baseball history is Hall of Fame outfielder Hank Greenberg, who played mostly for the Detroit Tigers in the 1930s and 1940s—and a deep appreciation of the present, with about 15 Jews currently in the Show, as the game's grandest stage has long been known.  Serving as moderator was veteran sportscaster Len Berman.

Leavy spoke about Koufax, the player and the man.  "Sandy Koufax," she said, "was not just the greatest left-handed pitcher I ever saw.  He's also the greatest mensch I've ever met in my life."  Leavy recalled that Koufax showed up for the Bat Mitzvah of her daughter, Emma, in the fall of 2001.  She told him he certainly didn't need to attend, but he insisted.  "I will be there for Emma," he told Leavy, "because, after all, I'm the guy who has taken her mother away from her for the last three years."

She also dispelled the myth of Koufax which has persisted for decades: that he is baseball's version of Howard Hughes.  "He is not a recluse," Leavy said, "but somebody who has refused to barter parts of his soul for public attention."

Whatever his demeanor might be, there is no doubt his decision not to pitch in the opening game of the 1965 World Series against the Minnesota Twins because it fell on Yom Kippur has had a profound, and lasting, impact on Jews in this country.  "It was OK to stand up and say, 'I am a Jew,' and Jews don't work on Yom Kippur," Leavy said.

There have been misconceptions about Greenberg, as well, one centering on his attempt in 1938 to match, or surpass, Babe Ruth's record of 60 home runs in a single season.  With five games to go, Greenberg was at 58, which was where he ended up, many believing that pitchers deliberately walked or pitched around him the rest of the way to prevent a Jew from breaking the record.

In the late 1960s, Berkow, who worked with Greenberg on his autobiography, The Story of My Life, conducted his own investigation.  "Hank, there's just one question I have to get out of the way before we have lunch," he said one day.  "Did they or didn't they" pitch to him?  "They absolutely threw at me," Greenberg told him.  "I tightened up, got a little nervous and tried too hard."  Nonetheless, Berkow continued, despite a firm denial from the man himself, "Jews refused to believe it."  The crowd cracked up.

Berkow also told how Greenberg, during the 1934 pennant race, could not decide whether to take the field on Rosh Hashanah. "Hank went to the rabbis and they were Tigers fans," Berkow said.  More laughter.  "They said in the Bible that kids did play on Rosh Hashanah, and so it was okay for Hank to play," Berkow said. "What the rabbis didn't say was that the Christian kids were playing."  Greenberg played, the Tigers prevailing 2-1 in ten innings, both runs coming from home runs he hit.

Shamsky, a member of the formerly hapless Amazin' Mets, who shocked the sport—and the nation—by capturing the 1969 World Series over the Baltimore Orioles, and Blomberg, baseball's first designated hitter with the Yankees in 1973, contributed quite a bit to the conversation, as did Foer; but it was Leavy, with her anecdotes and insights into Koufax, who was most memorable.  Toward the end of the evening, an audience member asked whether the event would have been held if Koufax had chosen more than a half-century ago to pursue basketball instead of baseball.

Citing other Jews who made a great impact, Leavy said, yes, indeed, the event would have taken place. Whether it would have been standing room only is another question.

Michael Arkush is a best-selling author and sportswriter living in Alexandria, Virginia.
Tags:
American Jewish Historical Society
,
American Judaism
,
Art Shamsky
,
Arts & Culture
,
baseball
,
Detroit Tigers
,
Hank Greenberg
,
Leading Figures
,
New York Mets
,
New York Yankees
,
Rabbis
,
Ron Blomberg
,
Sandy Koufax
,
sports
COMMENTS
Comments are closed for this article.