The Gift of Humboldt Park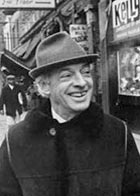 "I am an American, Chicago born"—Augie March's opening flourish, mixing New World swagger with Yiddish syntax—was the calling card of his creator, Saul Bellow, whose own march through American and world literature came to an end five years ago today according to the Hebrew calendar.
Relevant Links
A Writer's Credo
Nobel Lecture.
We moderns have lost the center, and can't regain it simply because we want to. Can literature help?
Blessings of the Exotic
Saul Bellow
,
Nextbook/Tablet.
Beneficiaries of American language and society, Jewish writers also enjoy, and can exploit, the privileges of the outsider.
Born in Montreal in 1915 to Russian-Jewish parents, Bellow moved at age nine to Chicago's Humboldt Park neighborhood. Doubly migrant, the multilingual boy (French, Yiddish, Hebrew) became an avid student and celebrant of that most American city. After university, wartime service in the Merchant Marine, years in Europe and New York, he returned to Chicago in 1962 with five novels, including The Adventures of Augie March (1953), behind him and more to come.
Herzog (1966) and Mr. Sammler's Planet (1970), among his greatest, saw the ripening of Bellow's distinctive literary idiom, a mix of extravagant comedy with anguish and of Latinate with Jewish registers of speech, the whole animated by ideas pushed to their limits and contradictions: a mix we take for granted today but that first had to be achieved against, in particular, the massive influence of Ernest Hemingway on American writing. In putting a brake on that influence, Bellow created a new mode of apprehending reality through the power of words.
He also rang the changes on Jewish historical types: the garrulous luftmensh, the amorous shlemiel, the despairing witness. He was preoccupied with Jewish fate in its own terms and as a marker for the (often shaky) prospects of Western democratic civilization. Artur Sammler, a Holocaust survivor, blinded in one eye, is "a registrar of madness" in the unraveling New York of the late 1960's. In his late, brief masterpiece, The Bellarosa Connection (1989), the Jewish fate takes center stage in a deep Bellovian meditation on the Holocaust, America, Israel, and the power and inadequacy of Jewish memory.
In his declaration of independence, Augie March added that he would "go at things as I have taught myself, free-style, and will make the record in my own way." His creator did.
COMMENTS
Comments are closed for this article.