Religion in Israel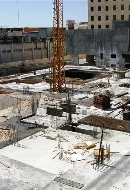 Building Jerusalem
Friday, September 16, 2011 by
Hadassah Levy
| Jewish Ideas Daily » Daily Features
On the edge of Route 1 as that thoroughfare runs through eastern Jerusalem lies an Arab neighborhood by the name of Sheikh Jarrah. In one section of the neighborhood, an Israeli flag waves and Jews walk back and forth to the tomb of Simon the Just, who served as high priest in the Second Temple.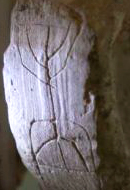 Mysteries of the Menorah
Thursday, September 8, 2011 by
Meir Soloveichik
| Jewish Ideas Daily » Daily Features
On the eve of Tisha b'Av, 2011, archeologists revealed artifacts newly unearthed from the great Jewish revolt against Rome (67–70 C.E.), including coins minted by the rebels and a stone incised with a sketch of the Temple menorah. But what is the menorah, and what does it symbolize?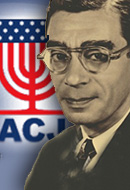 Jews against Zionism
It will come as a surprise to many that the current adamant Palestinian refusal to recognize Israel as a Jewish state was once American policy. An even greater surprise is that an American rabbi and the Jewish organization he headed played a major role in the government's articulation of that policy.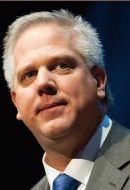 Demonizing Glenn Beck
Friday, August 26, 2011 by
Alex Joffe
| Jewish Ideas Daily » Daily Features
Few American public figures equal Glenn Beck in his ability to inspire loathing from his enemies and affection from his admirers. Beck was in Israel this past week for a series of public events—in effect, revival meetings. He called the tour "Restoring Courage."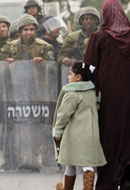 Who Speaks for Israeli Arabs?
Wednesday, August 24, 2011 by
Elliot Jager
| Jewish Ideas Daily » Daily Features
Historians writing about Israel's 1948 fight for independence generally place heavy responsibility for the Palestinian Arab refugee problem on the Arab leaders who urged their people to flee Palestine temporarily until the Zionists were driven into the sea.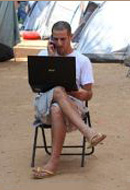 What's Behind Israel's Middle-Class Revolt?
Wednesday, August 17, 2011 by
Ran Baratz
| Jewish Ideas Daily » Daily Features
Amid the flood of press comments about the "middle-class" protests that have been roiling the Israeli scene over the past weeks, a particularly cheerful note was struck by the American political philosopher Michael Walzer.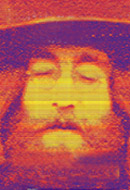 John Lennon and the Jews
Friday, August 5, 2011 by
Aryeh Tepper
| Jewish Ideas Daily » Daily Features
"It's not cool to be Jewish, or Negro, or Italian. It's just cool to be alive, to be around." So said Aretha Franklin. I know, because my father used to have the soul diva's wisdom hanging on the wall of his study at home. He also used to walk around in a t-shirt with "Miscegenate" emblazoned across the chest.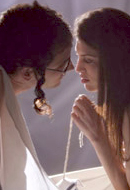 Lives of the Ex-Haredim
"Wherefore art thou Romeo?" Juliet calls out in pristine Yiddish from the heights of her fire escape.  Melissa (Malky) Weisz, who plays Juliet in the recent film Romeo & Juliet in Yiddish, probably asked the same question in a more vernacular Yiddish—and with very different expectations—in her earlier life.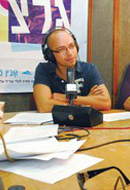 Radio Israel
Monday, August 1, 2011 by
Elliot Jager
| Jewish Ideas Daily » Daily Features
Radio in Israel is as ubiquitous as hummus, falafel, and politics. During their morning and evening commutes, motorists as well as bus passengers (captive to the listening tastes of their drivers) are likely to be hearing either one of seven Israel Broadcasting Authority (IBA) affiliated stations or one of two Army Radio outlets.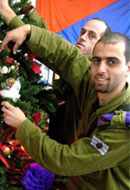 Minorities in the IDF
Wednesday, July 27, 2011 by
Aryeh Tepper
| Jewish Ideas Daily » Daily Features
Recently, while driving by the Israeli settlement of Nokdim (where Avigdor Lieberman lives), I picked up a hitchhiking soldier. We started chatting, and I asked the soldier his name. "Mustafa," he said. "You're a Muslim?" I asked. "Yes," he answered, "from Haifa."