Frisco Kids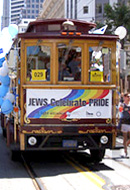 Everyone knows the caricature of a New York Jew: intellectual, neurotic, reflexively liberal. In recent years, the reach of the caricature has expanded: It now covers not just New York Jews but urban Jews on America's "left coast." But Fred Rosenbaum's Cosmopolitans: A Social and Cultural History of the Jews of the San Francisco Bay Area, comprehensively and compellingly describes a Jewish population whose liveliness belies any stereotype. Rosenbaum brings to life Jewish San Franciscans both renowned and obscure and makes a case for their impact on the country and the world.
Relevant Links
Pacific Coast Byways
Deborah Dash Moore
,
H-net.
Three talented historians have teamed up to write a history of West Coast Jews, from the 1840's Gold Rush to the rise of the Hollywood moguls.
Let Him be Emperor
Peter Moylan
,
Encyclopedia of San Francisco.
Joshua Norton was lured to San Francisco by the 1849 Gold Rush. Who knew what grandeur awaited him?
Congregation Emanu-El
Congregation Emanu-El.
The oldest congregation west of the Mississippi was a beacon for Reform Judaism and also for Jewish music, under the half-century tenure of notable organist and composer
Ludwig Altman
.
Jews flowed into San Francisco among a wave of immigrants drawn by the Gold Rush in the mid-19th century, when the Bay Area became a boomtown. Most Jews hailed from the German-speaking lands of Central Europe (Bavarians, Prussian Poles, and others). There were also sizeable contingents from the Alsace region of France, from England, the Hapsburg Empire, czarist Russia, the Caribbean, and South Africa. There would be another large Jewish influx to San Francisco among the countrywide wave of European immigration of the early 20th century.
Jews were also drawn west from New York City and other American regions by the prospect of gold and of making a profit from business catering to the gold industry. The trip across the continent was grueling for San Francisco's Jewish pioneers; but once they got there, they had an easier time than their New York cousins in establishing and integrating themselves. Anti-Semitism, Rosenbaum notes, was "milder in the west than in the rest of the United States." (Anti-Jewish quotas, which existed at institutions from golf clubs to Stanford University, developed only later.) In early San Francisco, "when anti-Semitic incidents did occur, Jewish leaders met them forthrightly and adroitly." In 1855 Jews opposed San Francisco's "blue laws," which forced businesses to close on Sundays. The Speaker of the California State Assembly, William Stow, charged that this opposition was based on Jewish avarice. A Jewish assemblyman, 23-year-old attorney Henry Labatt, responded on the Assembly floor: "I do claim Mr. Speaker . . . the Jews are good citizens, and better than you." Some believed that Speaker Stow's avowed anti-Semitism lost him the gubernatorial nomination.
In 1859, San Francisco Jews were confident enough of their security in the community to campaign for the release of a Jewish boy in Bologna, Italy, who had been baptized by his nurse, then kidnapped by papal guards.
San Francisco Jews were also successful financially. In 1871, 11 of the city's 100 richest men were Jewish. They made their fortunes as clothing manufacturers (including Levi Strauss, inventor of the blue jean), as wholesalers, and in finance, securities, and real estate. A disproportionate number of them excelled academically. Six members of Harvard's graduating class of 1892 were Jewish San Franciscans.
Where their pioneering parents had begun poor and remained straitlaced, the second generation was innovative and quirky. An astounding number of children of San Francisco Jewish immigrants became leading artistic and literary lights of the Bay Area. Among them was Gertrude Stein; later, they included musical prodigies like Isaac Stern and Yehudi Menuhin. They were well represented even in sports, hardly part of the urban Jewish stereotype. At the turn of the 20th century, three of the world's top boxers were San Francisco Jews.
And San Francisco Jewish women, in the manner of Western pioneers, broke down barriers that would be crossed only later by Jewish women in New York and the rest of the country.
Bay Area Jewish communities also spawned many prominent socialists. One of them was Anna Strumsky, Jack London's long-time lover. The socialists included not only poor Jews but wealthy Jews who grew up burdened with guilt over their prosperity. Because they were leaders in both the union movement and the business community, Jews played major roles in the labor battles that galvanized San Francisco in the 1930's.
If there was a downside to the general optimism and comfortable status of San Francisco Jews, it was that these advantages could lead to self-satisfaction and complacency. Many Jewish leaders in the Bay Area were outright anti-Zionists. Some of them asserted that San Francisco was all the Jerusalem they needed. San Francisco Jews lagged behind their east coast co-religionists in taking a stand during the early stages of the Holocaust. A Holocaust public advocacy committee was finally formed in the city, but it was largely made up of German Jews, concerned about their and their parents' native land. Rather than emphasizing the need to rescue European Jews, San Francisco Jews stressed Jewish-American patriotism, hanging American flags and displaying the U.S. Constitution with great ceremony in local Jewish centers. They fell into the trap, Rosenbaum says, of "downplaying genocide reports to avoid the 'tribalism' charge."
The third generation of San Francisco Jews, Rosenbaum notes, was not as successful or outstanding as the children of the city's immigrants. Today, San Francisco's Jews are less religiously observant than Jews in the rest of the country and have one of the highest intermarriage rates. Rosenbaum describes what he characterizes as a "creative tension between Orthodoxy and liberal Judaism." Jewish San Franciscans, he says, consider themselves more broadly "spiritual" than others. They also tend toward groups that blend Judaism with other religions, such as the JuBus (Jewish Buddhists). Jews are also prominent in emphatically non-Jewish faiths: The area's neo-pagans have a Jewish-born leader. Rosenbaum adds, however, that San Francisco boasts a high number of converts to Judaism, including gentiles who marry into the faith.
So, is there a stereotypical San Franciscan Jew? Rosenbaum tells a lot of stories. There was Julius Kahn, one of the most popular congressmen of all time. There was Joseph Baerman Strauss, who persisted through marital problems, failing health, and a nervous breakdown as chief engineer of the 15-year project that became the Golden Gate Bridge. Strauss was known simply as "the man who built the bridge"; he well deserved the title.
Then there was Joshua Norton, who began as a respectable Jewish commodities trader. After the market turned against him in the 1850's, Norton secluded himself, then emerged—totally crazy—as Norton I, Emperor of the United States and Protector of Mexico. He became a city pet, eating free in fine restaurants and riding the streetcars without paying a fare. He was so associated with San Francisco that after visiting California in the 1870's, Robert Louis Stevenson asked in The Wrecker, "in what other city would a harmless madman who supposed himself emperor . . . have been so fostered and encouraged?"
Maybe Bay Area Jews are just too colorful for a stereotype; but Rosenbaum's entertaining footnotes, tidbits, and anecdotes provide a fun try.
Hannah Elka Meyers is a foreign policy analyst. The former editor-in-chief of New Partisan, her work has appeared in the Jerusalem Post, Middle East Quarterly, the Yale Journal of International Affairs, and the New York Press. She also performs as a singer-songwriter (in New York, and occasionally in San Francisco), and can be heard here.
COMMENTS
Comments are closed for this article.