The Jewish Samuel Menashe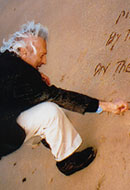 The poet Samuel Menashe, who died on August 22 at the age of eighty-five, grew up in Queens, New York. His parents were immigrants, and Yiddish was his first language. His poems have always been appreciated by other poets; but, until late in his life, his poetry did not receive the attention it deserved, and he did not enjoy the public career and prestigious awards and publications that his work should have brought him. In 2004, the Poetry Foundation established a "Neglected Masters Award." Menashe was its first recipient.
Relevant Links
Samuel Menashe
Poetry Archive.
Text and audio recordings of the poet reading his work.
He was a poet of very succinct verse, with little or no punctuation. Here, for example, is a Menashe poem only two lines long:
A pot poured out
Fulfills its spout
Yes, the spout is filled and its function is fulfilled when the pot is poured. In the same way, Samuel Menashe served as a vessel in which poems were meditated upon and revised until each syllable fulfilled his sense of the poetic vocation's demands and the works were ready to be sent out into the world. Poems as short and clear as Menashe's require readers who are sure enough in their appreciation of poetry to know the real thing when they see it. In the introduction to the Library of America volume of Menashe's selected poems, Christopher Ricks quotes T. S. Eliot on the issue: "Great simplicity is only won by an intense moment or by years of intelligent effort, or by both."
Menashe was fiercely proud of being Jewish; he was a defender of Israel and has always been seen as a Jewish poet. In a review of his work in the Irish Times (he was far better appreciated in England and Ireland than in the United States), Derek Mahon observed that when Menashe "speaks of the Temple or Jerusalem he does so in a more intimate manner than Herbert or Blake." The title of one of Menashe's books, No Jerusalem But This, was taken from a line in the volume's first poem:
There is no Jerusalem but this
Breathed in flesh by shameless love
Built high upon the tides of blood
I believe in the Prophets and Blake
And like David I bless myself
With all my might
Quite a few of his poems are responses to passages in the Hebrew Bible. For example, Genesis 2:5 and 2:7 contain word play in the Hebrew: "There was no adam [man] to till ha-adamah [the soil] . . . so God formed ha-adam [the man] from the dust of ha-adamah [the soil]." Here is Menashe's play on this material:
Adam Means Earth

I am the man
Whose name is mud
But what's in a name
To shame one who knows
Mud does not stain
Clay he's made of
Dust Adam became—
The dust he was—
Was he his name
And in a reference to the story of Noah and the pairs of animals brought into the ark, he writes:
Noah, equipped, knew
Every one has two—
This ark I am in
Embarks my twin
Here is the religious conception of our having a two-fold nature, a soul traveling in the ark of its body, a person traveling in the ark of life, as the word "ark" travels in the word "embarked." Menashe conveys the idea with ease, wit, and—by attributing the insight to Noah—a lack of pretense.
Samuel Menashe enrolled in Queens College as a biochemistry major but left in 1943 to enlist in the U.S. Army. He served in the infantry and fought in the Battle of the Bulge, where, in a single day, as his New York Times obituary recounts, "all but 29 members of his company of 190 men were killed, wounded, or taken prisoner." In a brief autobiographical note, Menashe gave the emotional facts: "I was marked by death for life when I was nineteen. In the first years after the war, I thought each day was the last day. I was amazed by the aplomb of those who spoke of what they would do next summer." He never wrote directly of his war experience in poetry, but many of his poems are shadowed by death:
Pity us
By the sea
On the sands
So briefly
These lines could well serve as his epitaph. But for me, another poem fulfills this role, partly because of its title but also because it was the poem Menashe inscribed in my copy of the Library of America edition of his poetry, written too late to be included in the book:
Leavetaking

Dusk of the year
Nightfalling leaves
More than we knew
Abounded on these
We now see through
David Curzon is the author of The View from Jacob's Ladder: One Hundred Midrashim and the editor of Modern Poems on the Bible.
COMMENTS
Comments are closed for this article.