Which Land Is Our Land?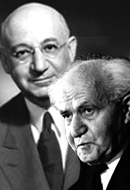 Yesterday's feature  gave us a peek at a large group of college students who are spending much of their winter break studying  the traditional sources relating to "the people, land, and state of Israel."  Some of them are evidently trying to decide whether they themselves belong in America or in the Jewish state.  Not to help them make a decision but to put this question in a different kind of historical perspective, we have decided to remind our readers of a time in the not-too-distant past when this was a pressing issue for American Jewry.  After the establishment of the State of Israel in 1948, Prime Minister David Ben-Gurion urged young American Jews to make aliyah.  This got him into hot water with some people, especially the leaders the American Jewish Committee, who believed that it was their responsibility to "forcefully discourage Israeli propaganda for immigration from America."  The outcome of this collision between the leader of the new State of Israel and the heads of one of the major American Jewish organizations was the "Blaustein-Ben-Gurion agreement," in which the Prime Minister reassured the AJC president, Jacob Blaustein, that he understood that "the decision as whether they wish to come—permanently or temporarily—rests with the free discretion of each American Jew himself; it is entirely a matter of his own volition."
The American Jewish Committee has made available online some fascinating documents relating to this episode.  We draw your attention, in particular, to the September 10, 1950 AJC press release on the agreement and the October 6, 1950 summary of the press reaction to it.  But for those who are interested, there is a lot more to read. 
Tags:
1948
,
aliyah
,
American Jewish Committee
,
American Judaism
,
American Zionism
,
David Ben-Gurion
,
Diaspora
,
Israel
,
Jacob Blaustein
,
United States
,
Zionism
COMMENTS
Comments are closed for this article.