American Jewish Committee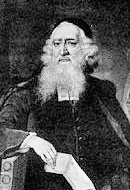 Why America Has No Chief Rabbi
Wednesday, January 23, 2013 by
Jonathan D. Sarna
| Jewish Ideas Daily » Daily Features
Just as America introduced free-market capitalism into the economy, so it created a free market in religion.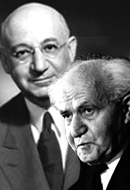 Which Land Is Our Land?
Wednesday, January 16, 2013 by
The Editors
| Jewish Ideas Daily » Daily Features
After David Ben-Gurion urged young American Jews to make aliyah, the American Jewish Committee responded by resolving to "forcefully discourage Israeli propaganda for immigration from America."
Editors' Picks
Directionless Diaspora
Isi Leibler
,
Israel Hayom
. As many European and American Jewish institutions become increasingly irrelevant, decrepit, and oligarchic, Diaspora Jewry is facing a serious crisis of leadership.