Bloomsbury's Rabbi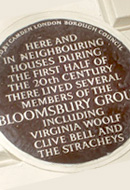 A translator stands between two languages and between the two worlds that the languages represent.  If he does his job well, he may belong in neither place.  Such was the fate of Samuel Koteliansky, an emigré Russian Jew in London, who translated Chekhov, befriended D.H. Lawrence and Katherine Mansfield, and circulated on the fringes of the Bloomsbury group.  These activities, portrayed by Galya Diment in her new biography of Koteliansky, A Russian Jew of Bloomsbury, did not add up to much in the way of literary accomplishment.  But Koteliansky—Kot, his English friends called him—saw a great deal of the literary lions whose accomplishments and personal lives burnt on through the entire 20th century.   
Relevant Links
Bloomsbury Recalled
Quentin Bell
,
Columbia University Press.
Bell's memoir of his parents and their friends—Woolf, Forster, Strachey—who made up the dazzling, dated Bloomsbury group.
Kot grew up in a family of means in a shtetl in the Russian Pale of Settlement.  He was educated at a secular gymnasium, where he was exposed to European languages.  He arrived in England in 1911 at the age of 31, among the wave of Russian Jews who emigrated to Britain between 1881 and 1914.  When he got to London, he was shocked to learn that his English wasn't good enough even to ask directions.
But Kot had the luck to have arrived in England at a moment of intense interest in Russian culture.  The Ballets Russes were performing there for the first time; the English literary world was discovering Dostoevsky, Tolstoy, and Chekhov.  It was a "good time," Diment writes, "to be any Russian in London."  Kot found the doors of the literary elite open to him.  Once inside, he revealed an unusual talent for personal friendship, ingratiating himself with enough writers and critics to remain a part of their world for 40 years.  The poet May Sarton wrote of Kot's kitchen, "There is no room in the world where I have ever felt so absolutely at home" or so able "to be completely myself without fear or embarrassment." 
His most important literary friendships were with Lawrence and Mansfield, lasting until their early deaths of tuberculosis.  The relationships seem to have rested mostly on Kot's devotion to the talent and success of these major authors—and his motherly opposition to their romantic partners.  He was also a "combination bookkeeper, errand boy, and mailing clerk" for Lawrence's literary magazine, the Signature.  Lawrence, for his part, allowed himself to be used in Kot's sometimes-quixotic literary promotion schemes, which often reached publication stage only because Kot was able to assure a publisher of Lawrence's participation or an introduction to other famous writers.  
But Kot had successes as well—mostly in the early 1920s, beginning with his translation of Gorky's Reminiscences of Leo Nikolaevich Tolstoy for Hogarth Press.  The book turned Hogarth from a small vanity shop into a proper enterprise—thanks in part to its salacious content, such as Gorky's recollecting Tolstoy stories of "indefatigable" whoring.  
But, then, indefatigable whoring seems to have pervaded much of Bloomsbury.  Their primary sport, gossip, focused on shifting heterosexual and homosexual liaisons, overlaid with a preening sense of moral progress.  Bloomsbury played a significant part in making this the governing style of our own morally fractured age. 
Kot shared with his Bloomsbury friends a kind of fevered romanticism. Deaths were drawn-out, dramatic affairs.  Kot couldn't attend friends' funerals because of his unwillingness to "share his very personal and profound grief with others."  A job was largely out of the question; on the few occasions when he took one, he seems to have thought of it mainly as a favor to his employer. He ended relationships quickly and permanently over slights real and imagined, nursing his anger for decades.
In other respects, Kot was idiosyncratic.  Amid all the partner-swapping, he was seemingly asexual.  He was often called a "rabbi" or "Old Testament prophet" and displayed a fierce sense of morality.  But no actual rabbi or Old Testament prophet would have had any use for Bloomsbury's sexual habits—or its Jew-hatred.  
Virginia Woolf, married to the Jewish Leonard Woolf, told a friend, "How I hated marrying a Jew."  After she broke with Kot, she told friends at a concert that she wanted to sit through the intermission to avoid running into "Koteliansky, that fervid Jew."  Lawrence was even worse. Seven years into his friendship with Kot, he wrote, "I hate Jews and I want to learn to be more wary of them."  In Lawrence's novel Kangaroo, a character probably based on Kot was described as "really ugly," with a "pendulous Jewish face."  Lawrence wrote to Kot that "humanity has hated Jews" because "Jews have always taken religion . . . and used it for their personal and private gratification. This is the slave trick of the Jews."
Diment gives them all too easy a pass, especially Kot himself.  At times he condemned Jew-hatred, but not in those he admired—including the philosopher Vasily Rozanov, whose writing he introduced to Lawrence.  Diment thinks this introduction may have been "one of the most lasting contributions to literary history" that Kot made, since Rozanov's views strongly influenced Lawrence's most famous novel, Lady Chatterley's Lover.
Diment claims that Kot's life illuminates "how it felt to be a Jew in Bloomsbury" and "the position of the Jews in the English cultural elite," but her attempt seems forced.  True, Kot was friends with the Jewish painter Mark Gertler.  He had some fraught conversations about Jewishness with Leonard Woolf in the 1930s.  During World War II, he tried unsuccessfully to help produce an anti-Hitler documentary.  Beyond that, Kot's Jewishness seems to have determined virtually none of his choices. Many who knew him in his later years were surprised to learn that he was Jewish. 
Diment finds Kot notable because, "despite being neither rich nor famous," he was "a very significant presence in the English cultural scene for half of the century" and, as a Jew, "embodied much of the angst of his age."  But his actual legacy may simply be his strange example as an immigrant Russian Jew who found himself both inside and outside an enduring literary drama.
Matthew Ackerman is a New York-based Program Specialist/Analyst for The David Project, a nonprofit that positively shapes campus opinion on Israel, and a regular contributor to Commentary's blog, "Contentions." 
COMMENTS
Comments are closed for this article.