Rematch!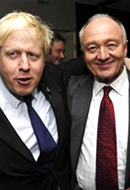 London—Europe's biggest city, with 5.8 million eligible voters—goes to the polls on May 3rd to elect a mayor. Like any big city mayoral campaign, the contest will revolve mainly around local issues. But the race also has the potential to return a vitriolic anti-Zionist to City Hall.
Relevant Links
Back into the Fray
Economist.
In 2008, London voters had a clear choice between Livingstone and Johnson. This time it's even starker.
The campaign is a rematch. On one side is the incumbent, the quirky Conservative Boris Johnson. Despite London's history of voting Left in municipal contests even when Tory parliamentary candidates do relatively well, Johnson held a slight edge in the polls until recently. Now, however, his opponent—London's former Labor mayor, "Red" Ken Livingstone, whom Johnson defeated four years ago—has taken the lead.
The candidates are charging and counter-charging. Livingstone reminds voters that under his administration, the city became cleaner and safer; that he helped bring the Olympic Games to London, made major improvements in the Tube, and implemented a traffic congestion plan that unclogged streets and cleaned the air in central London. In the future, he promises to push rent control. Johnson, for his part, notes that he delivered the Olympics on time and on budget and has frozen municipal taxes. Livingstone charges Johnson with raising commuter fares unreasonably; Johnson answers that the increase is essential for infrastructure upkeep and that fares increased dramatically under Livingstone, too. Livingstone points to the rise in some major crimes; Johnson answers that serious youth violence and crime overall are down.
More fundamentally, Johnson's unenviable job is to convince an electorate battered by Conservative government's squeeze on public spending and dreadful economic times—one in ten Londoners is unemployed—that he will be London's best advocate with No. 10 Downing Street and the business sector. He has pushed corporations to offer apprenticeships and training programs as cost-effective ways of tapping London's huge talent pool. But he admits that unless Prime Minister David Cameron's government steps in, he may have to cut the police budget.
This race, though, is about more than crime rates and budget cuts. Livingstone's "Red" moniker is well earned. John Ross, his close adviser and ex-chief of staff, is a Trotskyite whom Livingstone describes in his new autobiography as a "professional revolutionary." And, in keeping with the modern meaning of "red"—sympathetic to the Palestinian Arab cause and its Islamist champions—Livingstone has a commitment to "Palestine" and anti-Israel agitation that is second to none.
He believes that the creation of the Jewish state was an Original Sin and that peace would be easier "if Israel comes to terms with the crimes committed at its birth." He is close to Egyptian Islamist Yusuf al-Qaradawi, whom he defends as moderate: "The one thing he has always said is that Palestinians have the right to fight and to kill in the struggle around Israel. But he's always been absolutely clear that that was the only area in which violence could be justified." Livingstone's idea of an insult is to call Education Secretary Michael Gove—one of Israel's very view friends in the Cameron cabinet—a "fervent Zionist."
It comes as no surprise that Livingstone has been paid thousands of pounds to anchor a program for Iran's English-language Press TV.
Journalist Andrew Gilligan, who blogs about the mayoral race for London's Daily Telegraph, read an advance copy of Livingstone's autobiography and came up with some interesting statistics. "Ken," Gilligan writes, has a "famous obsession with the Third Reich," which is "on full display" in his book: "There are 23 references to "Nazis" or "Nazism" and a further 16 mentions of Hitler!" Livingstone's Nazi obsession is clear. In February 2005, annoyed by persistent questioning from Evening Standard reporter Oliver Finegold, he instinctively accused the journalist of "behaving like a concentration camp guard." In his book, Livingstone explains that no offense was intended: "The phrase 'behaving like a concentration camp guard' . . . is a common jibe in Britain." Livingstone jokes that the choice between him and Johnson is one between "good and evil": "I don't think it's been so clear since the great struggle between Churchill and Hitler."
Say this about the man: He has an arch sense of humor. But if he's obsessed with Hitler, he must be even more obsessed with Israel: In Livingstone's book, Gilligan notes, there are 64 mentions of "Israel" or "Israelis," 32 mentions of "Zionists" or "Zionism." (There are only 30 references to public transportation.)
Livingstone has a history of being a thorn in the side of his own Labor Party. He did not get on with prime ministers Tony Blair or Gordon Brown. He insists that now, for the first time in many years, "there's a Labor leader," Ed Miliband, "who actually likes me." Miliband's own comfort level with Israel is debatable; but, to his credit, he has asserted that "it is not left-wing or progressive to ally oneself with those that seek Israel's destruction." If the charismatic Livingstone becomes London's mayor, he may outshine the untested Miliband and push him further to the left.
In order to solidify his lead, Livingstone will need to hold on to his natural base among black and Muslim voters while appealing to voters who abandoned him four years ago, including Jews. Livingstone's relationship with London's Jewish community has long been fraught. Most of Britain's Jews, 195,000 out of 260,000-plus, are concentrated in London. They are not without clout. Obviously, not all vote in solidarity with Jewish interests and Israel. Many, however, will. Jewish voters helped push Johnson over the top in 2008. In 2010, says Professor Geoffrey Alderman, they punished Labor electorally for its perceived bias against Israel. That might explain why Valerie Shawcross, Livingstone's running mate, campaigned for him at last month's Limmud conference.
London's mayor has limited authority, with power in the city dispersed among 32 borough councils. Still, the job has plenty of responsibility and offers a bully pulpit. While there would be cheers in Tehran and Gaza for a Livingstone victory, it would be a setback for London's already-fraying image as a cosmopolitan, pluralist, and tolerant city.
COMMENTS
Comments are closed for this article.