Highlights of 2011:
Part I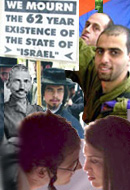 A two-part glimpse back at some of the year's most popular Jewish Ideas Daily features that you might have missed. Here, part I:
Anti-Semitism and Man at Yale
by Alex Joffe, June 13, 2011
The modern university is no longer made up simply of departments and regular professors teaching students. Ancillary centers, programs, and initiatives proliferate, undertaking research on every conceivable topic. The fates of such entities rarely make the New York Post. But anti-Semitism is not a normal subject.
Lives of the Ex-Haredim
by Joshua Halberstam, August 2, 2011
"Wherefore art thou Romeo?" Juliet calls out in pristine Yiddish from the heights of her fire escape. Melissa (Malky) Weisz, who plays Juliet in the recent film Romeo & Juliet in Yiddish, probably asked the same question in a more vernacular Yiddish—and with very different expectations—in her earlier life.
Gandhi and the Jews
by Elliot Jager, April 5, 2011
A new book about Mohandas Gandhi (1869-1948) has set off stormy protests in India for implying that the country's founding father was bisexual. That's only the beginning of it.
The New York Times Revises the Peace Process
by Sol Stern, February 14, 2011
"The Peace Plan that Almost Was and Still Could Be": blazoned over the entire cover of the February 13 New York Times Magazine, the sensation-seeking headline comes accompanied by a photograph from the back of former Israeli Prime Minister Ehud Olmert and Palestinian Authority President Mahmoud Abbas, each with his arm around the other.
Are Young Rabbis Turning on Israel?
by Elliot Jager, October 24, 2011
For all the theological, ritualistic, and institutional differences separating the Orthodox, Conservative, and Reform movements, what distinguishes the groups in the minds of many ordinary American Jews comes down to branding.
Sympathy for the Devil
by Allan Nadler, May 23, 2011
Occupying a place of particular infamy in Jewish collective memory is an 18th-century serial apostate, sexual deviant, messianic pretender, and chameleonic charlatan. His name was Jacob Frank.
The Seed of Israel
by Aryeh Tepper, January 26, 2011
Until modern times, the boundaries of Jewish identity were cut and dried. If you were born to a Jewish mother, or if you were a convert according to Jewish religious law (halakhah), you were Jewish. If not, you weren't.
Reconstructing Judaism
by Joseph J. Siev, August 3, 2011
At a time when all three major Jewish denominations in America—Orthodox, Conservative, and Reform—find themselves in a state of deep internal fracture, a fourth and much smaller movement, Reconstructionism, has just voted to create a unified body to coordinate the activities of its lay and rabbinical arms.
Jewish Philanthropy 2.0
by Alex Joffe, February 23, 2011
Jewish mega-donors are hardly news. It is also a commonplace that wealthy Jews allocate less than 25 percent of their giving to specifically Jewish causes. Of the two facts, the latter has understandably puzzled and frustrated fund raisers for Jewish causes. But is it really so mysterious?
Jews against Zionism
by Lawrence Grossman, August 30, 2011
It will come as a surprise to many that the current adamant Palestinian refusal to recognize Israel as a Jewish state was once American policy. An even greater surprise is that an American rabbi and the Jewish organization he headed played a major role in the government's articulation of that policy.
Mourning, Memory, and Art
by Richard McBee, August 8, 2011
David Roberts (1796-1864) was a Scottish painter who in the late 1830's traveled extensively in the Levant and Egypt documenting "Orientalist" sites in drawings and watercolors. Among Roberts's paintings was a massive 1849 work, The Destruction of Jerusalem.
The Loyalties of the Sephardim
by Aryeh Tepper, July 22, 2011
In a recent Haaretz column, Gideon Levy, the radical leftist polemicist, sounded the warning that Israel's religious Zionists—"the knitted skullcaps"—have joined hands with the ultra-Orthodox and the Sephardim to form "a united tribe of zealots."
Three Blessings
by Yehudah Mirsky, March 23, 2011
The Jewish prayer book (siddur) is thick with texts: blessings, thanksgivings, and petitions, instructions, theological claims, and historical memories. Some traditional texts bear especially outsized burdens. In this respect, few can rival three lines that begin "Blessed are you O God, King of the Universe, Who has not made me . . . " and conclude, respectively, "a goy [Gentile]," "a slave," and "a woman."
The Huguenot Connection
by Allan Nadler, January 3, 2011
In the darkest hours of the Holocaust, the safest place for Jews in occupied Europe may have been the southern French hamlet of Le Chambon-sur-Lignon.
COMMENTS
Comments are closed for this article.