the Lubavitcher Rebbe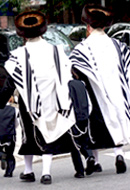 Spinoza in Shtreimels
Tuesday, September 4, 2012 by
Carlos Fraenkel
| Jewish Ideas Daily » Daily Features
Philosophy professor Carlos Fraenkel wrote that "the cultural relativism that often underlies Western multicultural agendas [is] a much greater obstacle to a culture of debate than religion."  Today, in an exclusive preview from the Jewish Review of Books, Fraenkel relates how his theory fared among a group of Hasidim.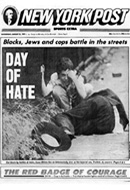 Crown Heights in the Mirror
Thursday, August 18, 2011 by
Alex Joffe
| Jewish Ideas Daily » Daily Features
On the evening of August 19, 1991, the three-car motorcade of the Lubavitcher Rebbe, Menachem Mendel Schneerson, entered the intersection of President Street and Utica Avenue in Brooklyn.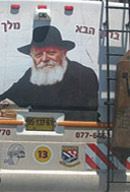 The Rebbe
Thursday, June 10, 2010 by
Yehudah Mirsky
| Jewish Ideas Daily » Daily Features
The story of Lubavitcher Hasidism in our time is nothing short of astounding. Here is an ultra-Orthodox sect, deployed all over the world, exuberantly engaged with non-observant Jews and with non-Jews, availing itself of every imaginable form of contemporary communications technology. What was, for generations, the most intellectual and scholastic-minded hasidic dynasty—its other name, Chabad, is an acronym for "Wisdom, Understanding, Knowledge"—has become an ecstatic mass movement. At the heart of it all is the seventh and last Lubavitcher rebbe, Menachem Mendel Schneerson (1902–1994), who died childless—and whom some substantial number of his followers forthrightly regard as the messiah.
Editors' Picks
Who Is A Jew?
Gil Student
,
Torah Musings
. In 1958, David Ben-Gurion consulted with Jewish scholars and leaders around the world in hopes of finding a universal definition.  He received 45 different answers, of course.