Simon Bar-Kokhba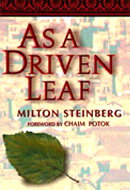 As a Driven Leaf
Thursday, March 28, 2013 by
Phil Cohen
| Jewish Ideas Daily » Daily Features
Milton Steinberg's As a Driven Leaf is no literary masterpiece.  But the novel, with its story of a notorious 2nd-century, C.E. heretic, has been in print for 75 years.  What accounts for the book's appeal to generations of modern Jews? 
Editors' Picks
Of Rabbis and Maccabees
Reuben Livingstone
,
Jewish Chronicle
. The rabbis never deny the necessity of self-defense.  So, why does the Talmud's discussion of Hanukkah downplay the military exploits of the Maccabees?