Second Temple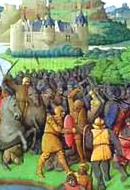 Warfare on Shabbat: The Legacy of the Maccabees
Friday, December 14, 2012 by
Moshe Sokolow
| Jewish Ideas Daily » Daily Features
Ezra and Nehemiah were so successful in instilling Shabbat observance that Jews refused to take up arms on Shabbat to defend themselves—with disastrous results.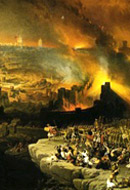 Mourning, Memory, and Art
Monday, August 8, 2011 by
Richard McBee
| Jewish Ideas Daily » Daily Features
David Roberts (1796–1864) was a Scottish painter who in the late 1830's traveled extensively in the Levant and Egypt documenting "Orientalist" sites in drawings and watercolors. Among Roberts's paintings was a massive 1849 work, The Destruction of Jerusalem.