Ruth Calderon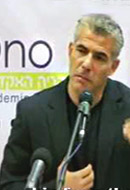 Yair Lapid's Religion
Tuesday, February 19, 2013 by
Elli Fischer
| Jewish Ideas Daily » Daily Features
In a speech to haredi students last year, Yair Lapid advocated a shared public sphere in Israel that is neutral on questions of religion.  Does he now have the chance to implement his vision?
Editors' Picks
Israel's Talmudic Turn
Sid Slivko
,
Jewish Week
. Educators reaching out to young secular Israelis in the hope of introducing them to the Talmud have discovered a willing audience.
The Talmud, Not for Non-Believers
Gil Student
,
Torah Musings
. Ruth Calderon's inaugural speech to the Knesset advocated secular study of the Talmud.  Yet the Talmud warns against students who don't intend to put what they learn into practice.