Ronald Lauder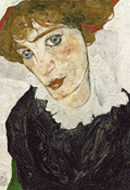 Art and Idolatry in Austria
Tuesday, October 30, 2012 by
Alex Joffe
| Jewish Ideas Daily » Daily Features
Art transforms life through beauty but inspires a possessiveness unlike any other.  Collectors tend toward obsession, which overwhelms morality; museums, like the medieval church, wash away sin with exhibitions for the public good.
Editors' Picks
Directionless Diaspora
Isi Leibler
,
Israel Hayom
. As many European and American Jewish institutions become increasingly irrelevant, decrepit, and oligarchic, Diaspora Jewry is facing a serious crisis of leadership.