Rome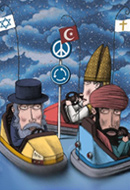 Does Jacob Hate Esau?
Monday, October 29, 2012 by
Jerome A. Chanes
| Jewish Ideas Daily » Daily Features
Jews have traditionally kept non-Jews at arm's length.  The rabbinic approach to anti-Semitism may be summarized as Halakhah hi b'yadu'a she-Eisav sonei et Yaakov, "It is an established normative principle that Esau hates Jacob." 
Editors' Picks
Budget-Balancing, Roman-Style
,
Bible History Daily
. The Emperor Vespasian took office amid a fiscal deficit.  But plunder from the Jewish Revolt not only filled the budget hole but financed the construction of the Colosseum.
Rome, Open City
dir. Roberto Rossellini
,
Criterion Collection
. Filmed in the immediate aftermath of the war, Rosselini's 1945 drama, set in Rome, 1944, portrays the doomed struggle of the Italian resistance against their Nazi occupiers. (Video; free link, expires November 19th)
Losing the Shadow War
Christopher Dickey
,
Daily Beast
. Despite last month's attack on Israeli tourists in Bulgaria, Iran's covert operatives are being foiled at virtually every turn by their Israeli and American counterparts.