October Revolution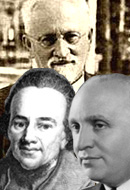 Where Does the Modern Period of Jewish History Begin?
Friday, January 18, 2013 by
Michael A. Meyer
| Jewish Ideas Daily » Daily Features
In this classic 1975 Judaism article, Michael Meyer argues that there is no value in "setting a definite terminus for the beginning of modern Jewish history."
Editors' Picks
Balfour and the Bolsheviks
Eddy Portnoy
,
Sh'ma
. History remembers 1917 for the Balfour Declaration's support of Zionism.  But Jews in 1917 were more interested in another event of that same week: the October Revolution.