Natural Gas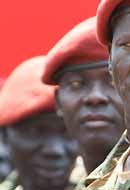 The Cush Connection
One year ago today, South Sudan declared independence.  An elated Israel officially recognized the new state the next day.  In the year since, many optimistic hopes for the Middle East and North Africa have been dashed; but in the case of South Sudan, Israel's optimism was justified. 
Editors' Picks
Is Israel the New Saudi Arabia?
Karl Vick
,
Time
. High-quality oil shale under exploration south of Jerusalem, coupled with offshore gas reserves already under development, could turn Israel into an energy giant.