Nahman of Bratslav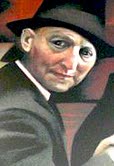 I. B. Singer's Last Laugh
Monday, August 6, 2012 by
David G. Roskies
| Jewish Ideas Daily » Daily Features
Like millions of his fellow immigrants to America, Isaac Bashevis Singer started over. In the beginning, he was a deadly serious Polish-Yiddish writer with world-literary ambitions.
Editors' Picks
The Underside of Uman
Cnaan Liphshiz
,
JTA
. Every Rosh Hashanah, thousands of Hasidim make a pilgrimage to the grave of Rabbi Nahman of Bratslav in Uman, Ukraine—and many end up in the hospital.