Music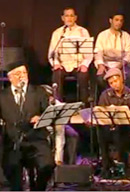 Come Swing with Me
Friday, May 31, 2013 by
Aryeh Tepper
| Jewish Ideas Daily » Daily Features
In the last of our highlights, Aryeh Tepper introduces the jazz-fueled piyyut of the New Jerusalem Orchestra; first published June 17, 2010.  Rejoin us on Monday for Mosaic's inaugural essay: Leon Kass on the Ten Commandments.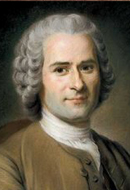 Rousseau, Melody, and Mode
Friday, May 17, 2013 by
Ben Elton
| Jewish Ideas Daily » Daily Features
Though best remembered today for his political philosophy, Jean-Jacques Rousseau was also a careful student of music.  But his conclusions are undermined by the liturgical music of Ashkenazi Jews.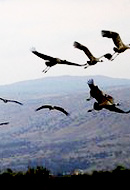 Shabbat Shirah: Song Takes Wing
Monday, January 21, 2013 by
Jerry Friedman
| Jewish Ideas Daily » Daily Features
Complementing the Song of the Sea, which will be read this Shabbat in synagogue, the Rabbis suggested a home-based ritual to celebrate Shabbat Shirah: feeding the birds.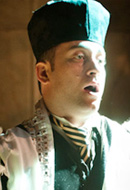 Not Dead Yet: The Remarkable Renaissance of Cantorial Music
Tuesday, December 25, 2012 by
Allan Nadler
| Jewish Ideas Daily » Daily Features
After a half-century of steady decline, two unlikely Jewish groups are reviving hazzanut.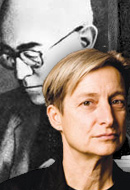 Adorno, Butler, and the Death of Irony
Friday, September 28, 2012 by
Alex Joffe
| Jewish Ideas Daily » Daily Features
Irony cannot exist in isolation; something is ironic only in relation to a larger pattern of events or behavior. Every three years, the city of Frankfurt awards its Adorno Prize to honor scholarly achievement in philosophy, music, film, and theater.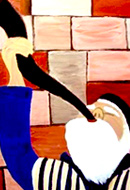 The Shofar
In a new series, archaeologist and Jewish Ideas Daily contributing writer Alex Joffe presents an annotated slideshow of the history and culture of a material object.  Here, the shofar.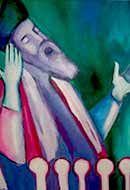 Ye Sacred Muses
Thursday, July 26, 2012 by
Simon Gordon
| Jewish Ideas Daily » Daily Features
Are Jewish mourners forbidden from listening to music?  On the face of it, the prohibition is absolute.  Certainly, it is forbidden for mourners to attend concerts, or performances in general.  But what about liturgical music, the music of the synagogue?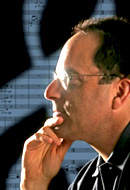 Songs and Psalms
Wednesday, May 2, 2012 by
Aryeh Tepper
| Jewish Ideas Daily » Daily Features
After 17 years in Israel, our family has temporarily relocated to Brooklyn. For a week after we arrived, our pious Jewish neighbors ignored us. Then, on Shabbat, three of them finally approached us, one after another—to tell us that the neighborhood eruv we were using really didn't exist and that we were profaning the Sabbath.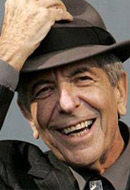 Old-New Leonard
Friday, March 9, 2012 by
Peodair Leihy
| Jewish Ideas Daily » Daily Features
After 60 years of publishing and recording, seventysomething Leonard Cohen has something else to say; and, lo and behold, the "Camp"—the Bergen-Belsen of the remembered newsreels of his childhood—comes up. He also gets the "Eye"—Jerusalem's Eye of the Needle—in there, a Jewish metaphor from the Talmud and the New Testament.
Jazz, Piyyut, and Jewish Identity
The Israeli-born, New York-based Omer Avital is both a world-class jazz musician and a master of classical Arabic music. He recently visited the Tikvah Fund, oud in hand, for an evening of music and free-flowing discussion about jazz, piyyut [liturgical verse], and Jewish identity.