Money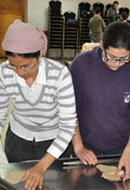 Fresh-Baked Matzah and the Spirit of Capitalism
Tuesday, March 19, 2013 by
Yoel Finkelman
| Jewish Ideas Daily » Daily Features
Small-scale matzah bakeries in Israel are enabling people to fulfil the mitzvah of baking matzah—and strengthening communities.
Editors' Picks
Making Money Holy
Gil Student
,
Torah Musings
. Moses counted the Israelites by making each one contribute a half-shekel.  Was the money holy because it was used for sacred purposes?  Or simply because it was pure silver?
Migrating Money
Tamir Cohen
,
Haaretz
. When Israeli authorities started investigating the money that African migrants ostensibly send home to their families, they did not expect to find it safely ensconced in the coffers of Hamas.