Masoretes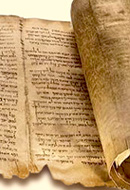 Dr. Orlinsky and Mr. Green
Friday, January 4, 2013 by
Michael Carasik
| Jewish Ideas Daily » Daily Features
Harry Orlinsky is best known today as "Mr. Green," the scholar who authenticated the four Dead Sea Scrolls offered for sale in a Wall Street Journal want ad.  But his legacy as a Bible scholar is enormous.
Editors' Picks
The Samaritan Torah
Chavie Lieber
,
Tablet
. The Samaritan version of the Torah, recently translated into English, differs from the Masoretic text in 6000 instances—but has far fewer discrepancies with the Dead Sea Scrolls.
Variations on a Theme
Geza Vermes
,
Standpoint
. Discrepancies among the Dead Sea Scrolls, the Samaritan Pentateuch, the Septuagint, and the Masoretic biblical text point to interpretative ferment in the time of Jesus.