Lyndon Johnson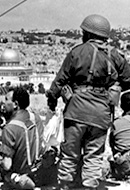 The Six-Day War: Day Three
As Nasser was ordering his army to flee the Sinai, King Hussein commanded his to stay put. But within the Old City, only a hundred soldiers remained, the rest having already retreated toward the East Bank.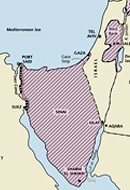 On the Eve of the Six-Day War
Forty-five years ago today, on June 4, 1967, Israel and the Jewish world were in suspense. Today, we recall the Six-Day War as a stunning martial victory by the Jewish state; but on the war's eve, this outcome was wholly unforeseeable. Indeed, the odds appeared firmly stacked against Israel.
Editors' Picks
Unbreakable Alliance?
Giulio Meotti
,
Jerusalem Post
. If Obama refuses to intervene to prevent Iran from becoming a nuclear power, he won't be the first U.S. president to leave Israel standing alone in its hour of need.