Irgun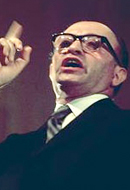 Menachem Begin: A New Life
Friday, May 3, 2013 by
Asaf Romirowsky
| Jewish Ideas Daily » Daily Features
Ensuring that another Holocaust would never take place was Menachem Begin's paramount concern, even when he was Prime Minister of Israel, pursuing Yasir Arafat in his Beirut bunker.
Editors' Picks
Raising the Altalena
Matthew Bell
,
BBC
. Ben-Gurion's 1948 decision to the sink the
Altalena
reflected his determination to dominate Begin's Irgun. A new project to raise the ship will also exhume their rivalry. 
The Radical Path
Niv Elis
,
Tablet
. With Sunday marking the 66th anniversary of the Irgun's bombing of the King David Hotel, one of the last surviving perpetrators recalls the operation—and how he claims it went awry.