IDF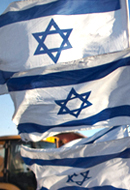 The Challenge of Sovereignty
Tuesday, April 16, 2013 by
Michael B. Oren
| Jewish Ideas Daily » Daily Features
On the eve of Israel's independence, David Ben-Gurion sat alone, questioning whether a people so long accustomed to being the victims of sovereign power could take responsibility for themselves.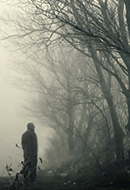 On Silence
Monday, April 15, 2013 by
Anita Shapira
| Jewish Ideas Daily » Daily Features
Eschewing Jewish expressions of mourning, Israel's founding generations shaped a national ethos of silence and self-restraint, which found expression in the words of poet David Shimoni: "Don't mourn, don't cry/ at a time like this./ Don't lower your head,/ Work! Work!"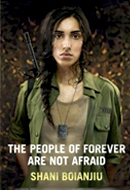 Shani Boianjiu and the Past and Present of Jewish Literature
Israeli writer Shani Boianjiu's first novel, composed in English, is a rare contemporary addition to the Jewish tradition of transnational literature.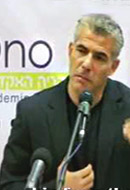 Yair Lapid's Religion
Tuesday, February 19, 2013 by
Elli Fischer
| Jewish Ideas Daily » Daily Features
In a speech to haredi students last year, Yair Lapid advocated a shared public sphere in Israel that is neutral on questions of religion.  Does he now have the chance to implement his vision?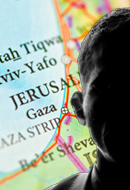 Israel's Friends in Gaza
Thursday, November 29, 2012 by
Alex Joffe
| Jewish Ideas Daily » Daily Features
Hamas was quick to declare victory in the latest conflict with Israel.   A closer look at the price it paid in terms of personnel and equipment shows that its bravado was false.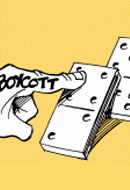 Strategic Investment in Israel's New War
Wednesday, October 10, 2012 by
Ronen Shoval
| Jewish Ideas Daily » Daily Features
Foreign governments, acting thoughtfully and strategically, fund dozens of non-governmental organizations (NGOs) that form a flourishing anti-Israel movement within Israel itself.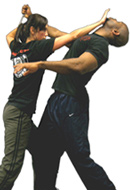 Krav Maga
The year was 1987 when the Intifada started.  Just after few months after I had joined a Jerusalem judo club, our instructor told us he was going to make a change in our practice sessions: we would now divide our classes between judo and krav maga.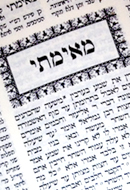 The Daily Page: A "Siyum"-posium
Thursday, August 2, 2012 by
Jacob J. Schacter
,
Yoel Finkelman
,
Michael Carasik
,
Tzvi H. Weinreb
,
Devora Steinmetz
,
Moshe Sokolow
,
Yehudah Mirsky
,
Mark Gottlieb
,
David Glasner
,
Aryeh Tepper
,
Marc B. Shapiro
,
Gil Student
,
Emanuel Feldman
,
Alon Shalev
,
Viva Hammer
,
Shlomo Zuckier
, and
Saul J. Berman
| Jewish Ideas Daily » Daily Features
UPDATE: New posts as of 8/3/12, 1:11 a.m.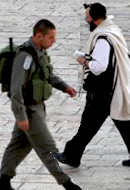 Tal Tales
Tuesday, July 31, 2012 by
Elli Fischer
| Jewish Ideas Daily » Daily Features
Tomorrow, the Deferral of Military Service for Yeshiva Students Law (Temporary Measure), better known as the Tal Law, will expire.  This law is not just any law: it is the latest enactment of the so-called "status quo arrangement" that frames the uneasy relationship between Israel's Haredi and secular populations, and between religion and State more generally.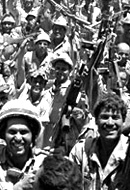 The Six-Day War: Day Six
After five days spent battling Arab forces, Israel now faced a new opponent: time. With the Egyptians and Jordanians out of the war, and the Syrians having agreed to a ceasefire, the Security Council was becoming restless.