Gatekeepers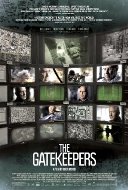 Israel's Gatekeepers
Thursday, April 11, 2013 by
Alex Joffe
| Jewish Ideas Daily » Daily Features
The Gatekeepers is not a history of Israel's security service, its operations and directors, but a political plea for the evacuation of the West Bank, the creation of a Palestinian state, and the suppression of Israeli's religious settler movement.
Editors' Picks
When the Gatekeepers Won't Shut Up
Rick Richman
,
New York Sun
. The Oscar-nominated
Gatekeepers
interviews all the living heads of Israeli intelligence. The last time that happened, the result was the Israeli pullout that left Gaza to Hamas.