food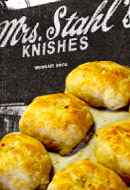 Raider of the Lost Knish
Wednesday, January 30, 2013 by
Laura Silver
| Jewish Ideas Daily » Daily Features
More than Hebrew School, a Torah scroll or the eternal light in the synagogue, the knish provided sanctuary.  It encapsulated my identity: ethnic, funny, and grounded in the past.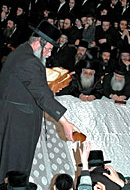 The Tish and the Thanksgiving Table
Wednesday, November 21, 2012 by
Allan Nadler
| Jewish Ideas Daily » Daily Features
In a scene in Avalon, Barry Levinson's cinematic memoir of growing up in Baltimore with his Yiddish-speaking immigrant parents, Uncle Gabriel Krichinsky, brilliantly played by Lou Jacobi, arrives—late, as usual—for the extended Krichinsky family's annual Thanksgiving dinner.