Byzantium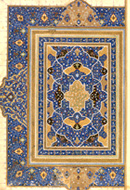 Crossing Borders—Without Passports
Wednesday, December 19, 2012 by
Moshe Sokolow
| Jewish Ideas Daily » Daily Features
"Crossing Borders," a current exhibit at New York City's Jewish Museum featuring works on loan from Oxford's Bodleian Library, displays medieval Jewish manuscripts embedded in their Christian and Muslim scribal milieus.
Editors' Picks
Caught in the Crossfire
Matthias Schulz
,
Spiegel
. Was pre-Islamic Yemen a multicultural paradise, where Jews, Christians, and pagans lived in perfect harmony until the Byzantines ruined everything?