Budapest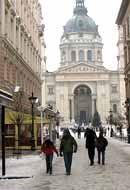 Danube Blues
Thursday, July 12, 2012 by
Elliot Jager
| Jewish Ideas Daily » Daily Features
"Be sure not to wear a kippah on the street," a veteran Hungarian-Israeli businessman cautioned as we disembarked at Budapest's Ferihegy Airport.  With public opinion surveys showing it to be among the most anti-Semitic countries in Europe, I took warnings to be Jewishly discreet to heart throughout our visit to the Hungarian capital.
Editors' Picks
Hungary's New Nazism
Colin Freeman
,
Telegraph
. Instead of convening in Jerusalem, the World Jewish Congress takes place this week in Budapest to highlight mounting anti-Semitism in Hungary—which is steadily becoming institutionalized.
What Is Hungary Hiding?
Bill Gladstone
,
BillGladstone.ca
. An expert at Yad Vashem is convinced that a massive trove of documents on Austro-Hungarian Jews lies hidden in Budapest's state archives—and he's determined to gain access to it.