Arnold Schoenberg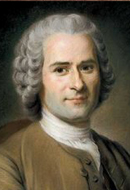 Rousseau, Melody, and Mode
Friday, May 17, 2013 by
Ben Elton
| Jewish Ideas Daily » Daily Features
Though best remembered today for his political philosophy, Jean-Jacques Rousseau was also a careful student of music.  But his conclusions are undermined by the liturgical music of Ashkenazi Jews.
Editors' Picks
Warning Notes
Daniel Johnson
,
Standpoint
. Jewish composer Arnold Schoenberg could not have anticipated the future for Vienna's Jews, but a piece entitled "Premonition" reflects growing anti-Semitism 30 years before the Holocaust.
The Godless Delusion
Neilson MacKay
,
New Criterion
. By "making a 'god out of man,'" artists like Schoenberg, Goethe, and Matisse thought that "in the wake of religious disbelief, art could give us 
meaning
 again."